LANTARENVENSTER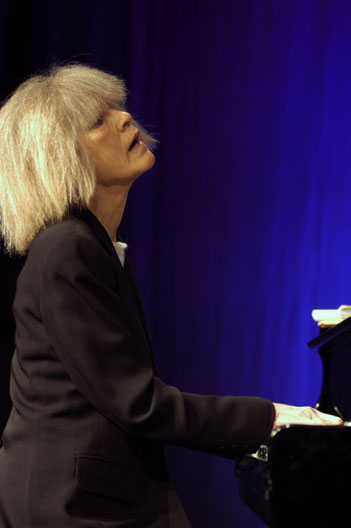 Kaartverkoop
Voor dit concert kan niet worden gereserveerd, uitsluitend gekocht. Dit kan aan onze kassa, via onze website en bij Primera-winkels door het hele land.
Jazz
THE LOST CHORDS FIND PAOLO FRESU
Carla Bley
Deze voorstelling is verlopen
Met haar eigenzinnige compositietalent is pianiste Carla Bley al vanaf jonge leeftijd een begrip in de jazz. Ze schreef eind jaren zestig voor big bands van onder anderen Gary Burton, Charlie Haden en Michael Mantler. Bley won belangrijke prijzen en richtte veel verschillende bands op. Het kwartet The Lost Chords komt voort uit duo-optredens met haar partner, bassist Steve Swallow. De muziek is soms zeer intiem, maar vaak ook vol humor en zelfrelativering.
Carla over de samenwerking met Paolo Fresu: "Terwijl ik nieuwe muziek probeerde te schrijven voor The Lost Chords, bleef ik een trompet horen. Het was geen normaal trompetgeluid dat ik meestal hoor wanneer ik schrijf voor bigband. Het was elegant en oplichtend, aards en verheven. Plots hoorde ik dit prachtige geluid door Andy Sheppards koptelefoon. Ik realiseerde me dat het Paolo Fresu was."
Carla Bley deed vervolgens het meest logische en vroeg de Italiaanse trompettist om zich bij hen te voegen voor de cd-opnames en de Europese tournee.
Bezetting:
Carla Bley - piano
Paolo Fresu - trompet, flugelhoorn
Andy Sheppard - sopraan- en tenorsaxofoon
Steve Swallow - basgitaar
Billy Drummond - drums