LANTARENVENSTER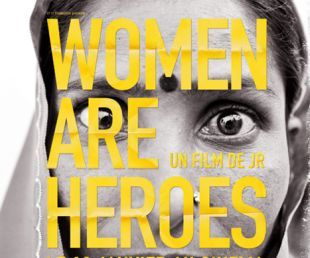 ANGRY
In het kader van de tentoonstelling ANGRY, in het Fotomuseum, zijn er films en lezingen over radicalisering onder jongeren in LantarenVenster. Voor meer informatie over de tentoonstelling ANGRY zie: www.a-n-g-r-y.nl of www.nederlandsfotomuseum.nl.
Film
WOMEN ARE HEROES
JR
FR
2011
85'
Divers gespr.
Nederlands ond.
LAATSTE WEEK Deze voorstelling is verlopen
Op vertoon van een ticket van de tentoonstelling ANGRY bedraagt de entree voor deze filmvoorstelling € 7 (in plaats van € 8,50).
Women are heroes neemt de kijker mee naar favelas in Morro da Provincia (Rio de Janeiro), sloppenwijken in Kenia (Kibera, Nairobi), Phnom Penh (Cambodja), Monrovia (Liberia) en Kashmir (India). Straatkunstenaar JR interviewt daar de vrouwen over hun leefomstandigheden en de drama's die hun sporen achterlieten. Hij transformeert de plaatsen in openbare galeries door gigantische zwart-wit fotos, close-ups van de vrouwen, op muren, daken, bruggen, hellingen en vervoersmiddelen te plaatsen.
Op de vraag van een Keniaanse man waarom hij specifiek de ogen van de vrouwen gebruikt om de daken van de vervallen huizen te bedekken legt JR uit: "We deden al meer projecten en we realiseerden ons daarbij dat de omstandigheden waarin de vrouw leeft, de staat van het land reflecteren."
De film is een kleurrijke lofzang op de kracht van het leven en de hoop. Ondanks de dramatische gebeurtenissen die de personen onherstelbaar tekenden of beschadigden, breekt de lach door de ellende heen en de film benadrukt wat ze opgebouwd hebben, niet hun lijden. De vrouwen hebben de dood in verschillende gedaantes gezien, maar omarmen nog altijd het leven en veranderen hun tranen in een lach. Ze maken ons deelgenoot van hun nachtmerries, maar laten daarbij vooral hun levenslust en energie zien.
Met een combinatie van time-lapse sequenties, digitale bewerkingen, fors aangezette kleuren, high-definition fotografie, archiefmateriaal en extreme close-ups met een 28mm lens en de muziek van Massive attack, Patrice en Jean Gabriel Becker creeert JR een symfonie van sloop en opbouw, van lijden en levenskracht.
Scenario: JR, Emile Abinal; Camera: Patrick Ghiringhelli; Montage: Hervé Schneid; Geluid: Philippe Welsh; Muziek: Massive attack, Patrice en Jean Gabriel Becker.