LANTARENVENSTER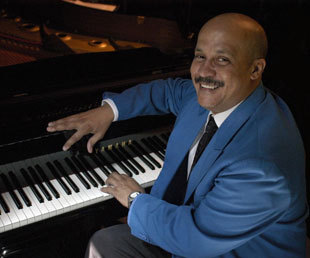 Hilario Durán Trio, ca. 5 jaar geleden
Modern Drummer Festival 2000, met o.a. Hilario, Michael Brecker & Horacio.
latin jazz
HILARIO DURÁN TRIO FEAT. HORACIO 'EL NEGRO' HERNANDEZ & ROBERTO OCCHIPINTI
Deze voorstelling is verlopen
De in Toronto wonende Cubaanse pianist Hilario Durán is in Nederland niet zo bekend als zijn landgenoten Bebo en Chucho Valdés en Roberto Fonseca. Op zijn nieuwste album Motion laat hij horen dat hij niet voor hen onderdoet.
Motion is de opvolger van From The Heart, een latin jazz big band album dat Durán o.a. opnam met Paquito d'Rivera en Horacio 'El Negro' Hernandez. De in Havana geboren en opgegroeide Durán begon al op jonge leeftijd piano te spelen. Zijn vader had de platen van Errol Garner, Harry James en Stan Kenton in huis. Niet alleen door hen is hij muzikaal beïnvloed maar ook door Cubaanse grootheden als pianisten Emiliano Salvador en Ernesto Lecuona, door Durán als een van de grootste beschouwd.
Hij studeerde aan het Amadeo Roldan Conservatorio in Havana en speelde in Cuba's Los Papa Cun-Cun Ensemble. Nadat Chucho Valdés vertrokken was naar Irakere, nam hij zijn rol over bij Orquesta Cubana de Musica Moderna waar hij samenspeelde met de van Buena Vista bekende trompettist Guajiro Mirabal. Hij werkte ook met Oscar d'Leon, Omara Portuondo en Silvio Rodriguez. In 1981 vroeg de befaamde trompettist Arturo Sandoval hem als pianist en arrangeur voor zijn band. De jaren negentig betekenden een ommekeer in Hilario's leven, hij werkte met Gonzalo Rubalcaba, Frank Emilio Flynn, zangeres Merceditas Valdes en de Canadese fluitiste Jane Bunnett die hem uitnodigde naar Toronto te komen. In 1996 bracht hij zijn eerste soloalbum uit: Francisco's Song. In 2004 tekende hij bij het Canadese Alma Records label waarop hij de albums New Danzon (2004) en Encuentro En La Habana (2005) uitbracht.
Opmerkelijk is dat Cuba veel grote pianisten heeft voortgebracht, een mooi gevolg van de uitstekende muziekopleidingen op het eiland. Cuba is meer dan Buena Vista, son en salsa. Op conservatoria worden studenten ook klassiek geschoold. In het spel van Hilario Durán zijn klassieke elementen terug te horen en dat geldt ook voor anderen. Durán: "Hier in Amsterdam heb ik na jaren Ramón Valle weer ontmoet. Hij is een hele goede. Op Cuba zelf heb je nu een aantal uitstekende jonge pianisten zoals Roberto Fonseca, Harold Lopez Nussa, Roberto Carcasses, Gabriel Hernandez en Rolando Luna."
(bron: Cultuurpodium.nl, Rik van Boeckel)
"This trio is one of my most expressive musical formations - classic Cuban and Latin jazz repertoire with essential rhythms from Afro-Cuban music like cha-cha-cha, Bembé, Mambo, Son Montuno and elements of modern jazz…" (Hilario Durán)
"Hilario Durán is an excellent pianist, as well as a first class composer and arranger... one of the greatest Cuban pianists of the 20th century..." (Chucho Valdés)
"Meesterlijk. ...hij is een klavierleeuw met smaak en stijl. ...een begaafd componist en arrangeur. ...ook in de 21ste eeuw zet Hilario Duran de traditie op grootse wijze voort." (De Volkskrant)
Voor en na het concert draait DJ Onno Paloma.
Bezetting:
Hilario Durán: piano
Roberto Occhipinti: bas
Horacio 'El Negro' Hernandez: drums