LANTARENVENSTER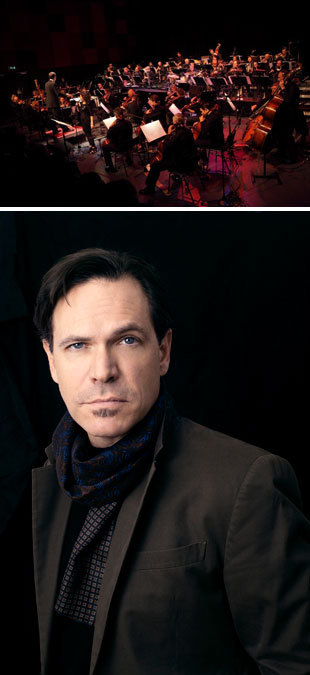 Metropole Orkest (foto: Joke Schot) en Kurt Elling
Muziek
THE METROPOLE ORKEST O.L.V. VINCE MENDOZA INVITES KURT ELLING
GRANDE FINALE ARRANGERS WORKSHOP, I.S.M. DE ROTTERDAM JAZZ ACADEMY VAN CODARTS
UITVERKOCHT Deze voorstelling is verlopen
Het Metropole Orkest, Vince Mendoza en de Rotterdam Jazz Academy van Codarts selecteerden acht zeer talentvolle jonge arrangeurs uit meer dan honderd kandidaten uit de hele wereld om te werken met een van 's werelds toonaangevendste symfonische orkesten op het gebied van de jazz en populaire muziek en de befaamde zanger Kurt Elling. Dit belooft een fantastische en bijzondere concertavond te worden.
Kurt Elling
Met zeven Grammy nominaties op zijn naam verwierf vocalist Kurt Elling al voor zijn veertigste een grote plaats in de jazzscene. De veel gelauwerde vocalist is de stem van een nieuwe generatie jazzfans geworden. Elling treedt in de voetsporen van Eddie Jefferson, King Pleasure, Jon Hendricks en Mark Murphy. Hij combineert liedteksten met knappe arrangementen en verrassende repertoirekeuzes.
Sinds zijn debuut in 1995 bouwde hij een lijvig oeuvre op dat wordt gekenmerkt door kwaliteit en waarbij hij risico's niet uit de weg gaat. Het werk van Elling is uitdagend, brutaal en bij vlagen extravagant. Maar bovenal is de uit Chicago afkomstige Amerikaan een hoogst originele virtuoos. Elling is een scat-vocalist maar heeft ook een eigen stijl toegevoegd; de rant, waarbij hij ter plekke met woorden improviseert. Zijn stem is een diepe bariton die zowel sonoor als zeer avontuurlijk en lenig uit de hoek kan komen. De kunst van vocalese verstaat niemand beter dan hij. Elling kan als geen ander zijn zelf geschreven teksten over de geïmproviseerde solo's van muzikanten vertolken. Hij gaat met de grootst mogelijke integriteit te werk, respect voor de muziek en de artiest die het werk componeerde zijn belangrijke elementen.
Kurt Elling wordt wel de meest flamboyante creatieve jazzzanger van het laatste decennium genoemd. In maart 2011 gaf Elling nog een uitverkocht concert in LantarenVenster, waarbij hij o.a. materiaal presenteerde van zijn meest recente en door Don Was geproduceerde cd The Gate. Dit lovend ontvangen album herbergt niet alleen jazzcomposities, maar ook stukken van Stevie Wonder, The Beatles, King Crimson en Joe Jackson.
Metropole Orkest
o.l.v. Vince Mendoza
Het Metropole Orkest is het grootste professionele orkest ter wereld dat een repertoire bestrijkt van zowel onversneden jazz als pop, wereldmuziek, filmmuziek en entertainment. Het orkest is met dit brede aanbod te horen op de Publieke Omroep en is te gast op festivals als North Sea Jazz en het Holland Festival.
De kwaliteit en veelzijdigheid van het orkest worden geïllustreerd door de kleurrijke schare van solisten die het podium met het orkest deelde, onder wie Oleta Adams, Vicente Amigo, Antony & The Johnsons, Within Temptation, Andrea Bocelli, Joe Cocker, Elvis Costello, Brian Eno, Ella Fitzgerald, Stan Getz, Astrud Gilberto, Dizzy Gillespie, Herbie Hancock, Hank Jones, Chaka Khan, Pat Metheny, Ivan Lins, Paquito D'Rivera, John Scofield, Toots Thielemans, Gino Vannelli, Sarah Vaughan, Nancy Wilson, Dino Saluzzi, Trijntje Oosterhuis, Roberta Gambarini, en fado-fenomeen Mariza.
Sinds 2005 is meervoudig Grammy-winnaar Vince Mendoza chef-dirigent van het orkest.
"The standout male vocalist of our time." - The New York Times over Kurt Elling
"Since the mid-1990s, no singer in jazz has been as daring, dynamic or interesting as Kurt Elling. With his soaring vocal flights, his edgy lyrics and sense of being on a musical mission, he has come to embody the creative spirit in jazz." - The Washington Post
Voor en na het concert draait Dj Onno Paloma.