LANTARENVENSTER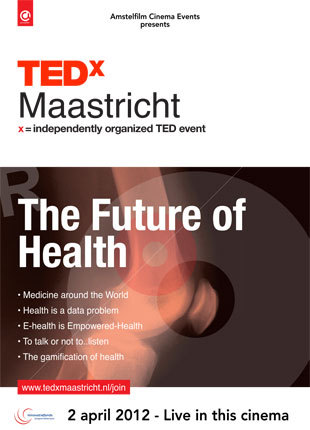 Livestream conferentie
TEDX MAASTRICHT
LIVE IN LANTARENVENSTER
Deze voorstelling is verlopen
Op maandag 2 april vindt in het Theater aan het Vrijthof de tweede editie plaats van TEDxMaastricht.
Alle plaatsen daar zijn inmiddels uitverkocht, maar u kunt het programma ook live in LantarenVenster volgen, van 9:00 tot 18:15.
TEDxMaastricht The Future of Health is een TEDx conferentie specifiek over de toekomst van zorg en gezondheid. Een onderwerp dat iedereen op enig moment in het leven zal raken.
Meer dan dertig (inter)nationale sprekers zullen hun ideeën over een gezonde toekomst van de zorg delen tijdens TEDxMaastricht. Onder hen Maarten Lens-Fitzgerald, Naveen Jain, Janneke Wittekoek, Joop Braakhekke, Bart Knols en Jelle Barentsz.
Wilt u deze conferentie 'virtueel' bijwonen? Dat kan. De toegang is gratis, maar u dient zich wel aan te melden. Dat kan via:
Wilt u nog meer? Win de TEDx prijs!
De deelnemer die de meeste mensen naar de bioscoop heeft weten te nemen, krijgt een uitnodiging voor TEDxMaastricht 2013. Zorg ervoor dat uw aanhang uw naam invult op het online registratieformulier en maak kans op deze unieke uitnodiging!
Voor een gedetailleerd programma van deze dag kijk op tedxmaastricht.nl.