LANTARENVENSTER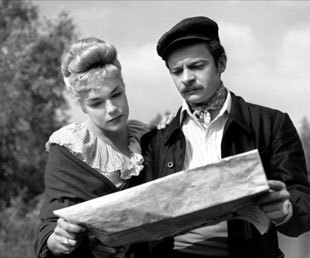 klassieker
CASQUE D'OR
Jacques Becker
FR, 1952
1952
96'
Frans gespr.
Nederlands ond.
ALLEEN DEZE WEEK Deze voorstelling is verlopen
Simone Signoret schittert als trotse hoer die de ware liefde leert kennen in Jacques Beckers fraaie sfeertekekening van de Parijse onderwereld ten tijde van de belle époque.
Becket leverde geen platte zedenschets af, maar een genuanceerd, kunstzinnig portret van het 'milieu' rond de vorige eeuwwisseling. Een uit de gevangenis ontslagen boef die het rechte pad heeft gekozen, belandt door liefde voor een meisje van lichte zeden opnieuw op het criminele pad. Mooie sfeertekening van het Parijs rond 1900.
Casque d'or, verguisd door de Franse pers, werd in het buitenland lovend ontvangen en was een van Signorets lievelingsfilms. Voor haar vertolking van een trotse prostituee die kiest voor de ware liefde kreeg ze de prijs voor beste actrice van de British Academy of Film and Televison Arts toegekend.
**** VPRO/Cinema.nl
'Prachtig romantische tragedie'
**** de Volkskrant
'…meeslepend melodrama van het hoogste niveau, dat de jaren goed heeft doorstaan…met impressionistische scènes om in te lijsten zo mooi.'