LANTARENVENSTER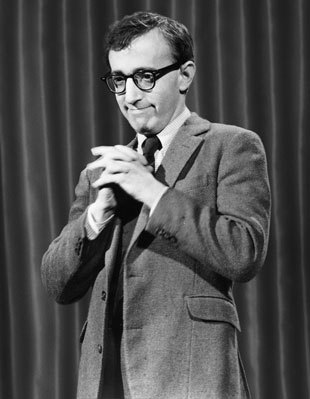 Documentaire
WOODY ALLEN: A DOCUMENTARY
Robert B. Weide
VS
2011
113'
Engels gespr.
Nederlands ond.
LAATSTE WEEK Deze voorstelling is verlopen
In Woody Allen: A Documentary volgt regisseur Robert Weide (Curb Your Enthusiasm) de lange carrière van Woody Allen, van zijn jeugd tot zijn laatste succesfilm Midnight in Paris.
Vanaf 23 augustus zal zijn nieuwe film To Rome With Love in LantarenVenster te zien zijn.
Als tiener leverde hij al grappen aan voor komieken en schrijvers. In de jaren vijftig en zestig van de vorige eeuw schreef hij sketches voor Sid Caesar, trad hij op als standup comedian en was hij een graag geziene gast in talkshows. De afgelopen veertig jaar regisseerde Woody Allen bijna jaarlijks een speelfilm, waarin hij vaak een hoofdrol speelde. Weide blikt terug op zijn vroege producties zoals Take the Money and Run, Bananas, Sleeper en Love and Death, Oscarfavorieten zoals Annie Hall, Manhattan, Zelig, Broadway Danny Rose, Purple Rose of Cairo, Crimes and Misdemeanors, Husbands & Wives, Bullets over Broadway en Mighty Aphrodite en recente, in Europa gedraaide films zoals Match Point en Vicky Christina Barcelona.
Om alles te weten te komen over zijn schrijfgewoontes, zijn ideeën over casting en regisseren en de relatie met zijn acteurs, reisde Weide met Woody Allen van de set van You Will Meet a Tall Dark Stranger in Londen naar de première van Midnight in Paris in Cannes. Hij filmde bij Allen thuis, in de montageruimte en de plekken waar hij opgroeide in Brooklyn.
De documentaire belicht ook Allens theaterwerk, zijn bijdragen aan The New Yorker en zijn optredens als klarinetspeler.
Aan het woord komen acteurs zoals Antonio Banderas, Josh Brolin, Penelope Cruz; cameramannen Gordon Willis en Vilmos Zsigmond; zijn zus en producente Letty Aronson; vriend Dick Cavett; collega Martin Scorsese en vele anderen.
**** de Volkskrant
**** Algemeen Dagblad
**** Cinema.nl/VPRO