LANTAREN VENSTER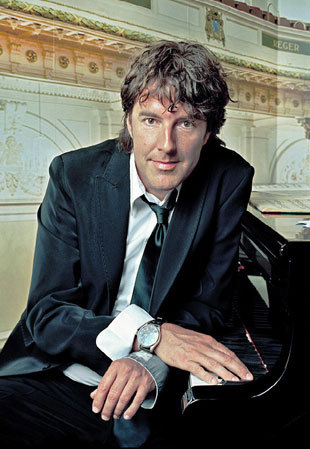 Jazz
MICHIEL BORSTLAP TRIO
Deze voorstelling is verlopen
Dit concert heeft een pauze.
Michiel Borstlap behoeft nauwelijks nog introductie. De Nederlandse pianist behoort tot de meest veelzijdige muzikanten die de hedendaagse jazz te bieden heeft. Borstlap is in staat om met respect voor de historie de invloed van grote voorbeelden zoals Art Tatum, Bud Powell en Joe Zawinul te integreren in zijn projecten. Dat leverde hem veel lof in eigen land op, maar ook overzees werd zijn talent als muzikant en componist erkend.
Michiel speelde samen met onder meer Wayne Shorter, Gino Vannelli, Pat Metheny en George Duke. In bandvorm of solo, Borstlap doet het publiek altijd versteld staan. Daarnaast is hij ook een veelgevraagd componist voor soundtracks van films.
In 2009 won hij de Nederlandse Edison Award voor zijn werk met Bennink Borstlap Glerum, waarmee hij stukken speelde van Thelonious Monk. In 2010 bracht hij het album SOLO uit, en stond Michiel volop in de spotlights op het Festival Jazz International Rotterdam, met onder meer een optreden met zijn elektrische band in LantarenVenster.
In 2011 speelde hij op het North Sea Jazz Festival, en was daar ineens het intieme album Blue (Songs from Father to Daughter). En dit voorjaar kwam alweer een volgende (trio-)cd uit: 88, op het label Challenge Records. Wederom krijgen Borstlap en zijn musici lovende kritieken van de muziekpers. Hoogste tijd om Michiel Borstlap met zijn trio uit te nodigen voor een concert in LantarenVenster.
"Borstlap is overweldigend. Borstlap is speels in zijn notenkeuze, combinaties en intervallen en vervalt nooit in routineuze loopjes… Borstlap goochelt met noten, maar een trucje wordt het nooit, daarvoor is de man te integer… Vroeger kon je nog een onderscheid maken tussen thematiek en improvisatie binnen een jazznummer. Bij dit trio is het niet duidelijk waar het één ophoudt en het ander begint." - **** Parool, 2 juni 2012 n.a.v. cd-presentatie Bimhuis
"Zowel in zijn improvisaties als in zijn uitvoering van een standard als Round Midnight hoor je hoezeer Borstlap heer en meester is over de piano. Moeiteloos vinden zijn vingers de weg in een muzikaal universum waarin een lyrisch hart bonkt. Zijn spel is altijd volledig transparant en zo geconcentreerd als dat van een klassiek concertpianist. In zijn improvisaties doet hij af en toe denken aan een wat lichtvoetigere versie van Keith Jarrett." - **** Parool 31 maart 2010 over het album Solo
Bezetting:
Michiel Borstlap: piano
Boudewijn Lucas: bas
Erik Kooger: drums