LANTARENVENSTER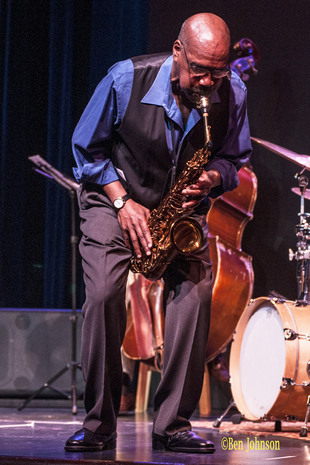 jazz / bop
Jazz International Rotterdam presenteert:
SONNY FORTUNE QUINTET
IN THE SPIRIT OF MILES
Deze voorstelling is verlopen
De legendarische Amerikaanse saxofonist Sonny Fortune (75 jaar) speelde in de elektrische band van Miles Davis in de jaren '70 en is te horen op vier spraakmakende albums van Miles uitgebracht op Colombia Records (Big Fun, Get Up With It, Agartha en Pangaea). Tien jaar lang was hij lid van Elvin Jones Jazz Machine en hij is verder bekend van zijn werk met McCoy Tyner, George Benson, Dizzy Gillespie en Nat Adderley, om er een paar te noemen. In de jaren '90 nam hij als bandleider een aantal noemenswaardige albums op voor Blue Note Records. Tegenwoordig is Sonny Fortune onderdeel van de groep 'Four generations of Miles' met Jimmy Cobb, Mike Stern and Buster Williams.
Sonny Fortune, wellicht als saxofoongrootheid ondergewaardeerd, heeft door de jaren heen zijn fabelachtige techniek en krachtige toon weten te behouden. Hij leidt een kwintet met internationale grootheden, dat tijdens de Europese tournee ook LantarenVenster aandoet. Daarin spelen verder de Nederlandse bassist Joris Teepe, die 22 jaar in New York woonde en aldaar met vele beroemdheden optrad en de Nederlandse trompettist Michael Varekamp. Ook de Amerikaanse pianist Jon Davis, die speelde bij Jaco Pastorius, Joe Henderson en Stan Getz en drummer Joris Dudli. Deze laatste speelde in het Vienna Art Orchestra, het Art Farmer Quintet en met Joe Zawinul.
Bezetting:
Sonny Fortune - saxofoon
Michael Varekamp - trompet
Jon Davis - piano
Joris Teepe - contrabas
Joris Dudli - drums