LANTARENVENSTER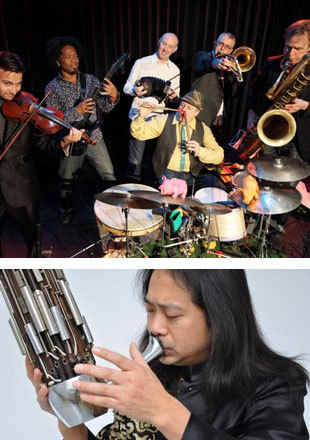 impro jazz
Jazz International Rotterdam presenteert:
THE NOO ONES
HIGGLEDY PIGGLEDY (SCHOTS EN SCHEEF)
Deze voorstelling is verlopen
Bij The Noo Ones (Noo - spreek uit: nu - is Schots voor nu) moet klankkleur het winnen van traditie. Met die gedachte is bandleider en oprichter Klaas Hekman te werk gegaan toen hij dit nieuwe ensemble samenstelde. De Rotterdamse bassaxofonist en componist Hekman is altijd op zoek naar vanzelfsprekendheid en vrijheid in muziek. Hij zocht vijf muzikanten van verschillende nationaliteiten en culturen bij elkaar en ging op avontuur.
Zo ontdekte hij in Rotterdam de jonge Indiase violist Satyakam Mohkamsing, die hem opviel door zijn zelfverzekerde, rustige manier van improviseren. Verder spelen mee: de Nederlands Surinaamse lyrisch swingende gitarist Andro Biswane bekend van Fra Fra Sound, de Schots Nederlandse drummer, speelgoedpercussionist en 'squeekologist' Alan 'Gunga' Purves, de Nederlandse trombonist en slide gitarist Joost Buis en de wereldberoemde Chinese sheng (Chinees mondorgel) speler Wu Wei.
Met 3 premières van nieuwe composities van Joost Buis, Klaas Hekman & Andro Biswane.
Bezetting:
Satyakam Mohkamsing (India) - viool
Joost Buis (NL) - trombone, slideguitar
Klaas Hekman (NL) - bassax
Andro Biswane (Suriname) - gitaar
Alan Purves (Schotland) - percussie
Wu Wei (China) - sheng (Chinees mondorgel)