LANTARENVENSTER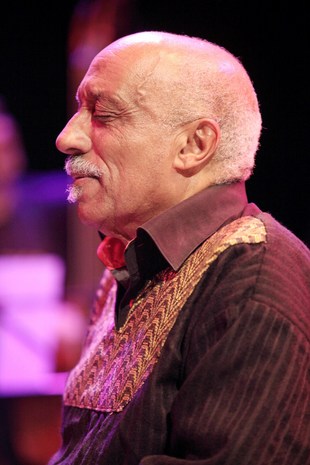 Ethio-jazz
MULATU ASTATKE
Deze voorstelling is verlopen
Dit is een concert met uitsluitend zitplaatsen.
Onlangs bracht het label JazzVillage (HarmoniaMundi) het nieuwe album uit van de vader van de Ethio-jazz, de Ethiopische muzikant en arrangeur Mulatu Astatke. Het album is getiteld Sketches of Ethiopia en in november komt Astatke voor twee concerten naar Nederland om het te presenteren aan zijn publiek.
Mulatu Astatke heeft met bekende musici uit de jazz-scene samengewerkt, waaronder Duke Ellington. In Europa verwierf Mulatu met name grote bekendheid met zijn muziek voor de film Broken Flowers van Jim Jarmusch. Sindsdien is hij niet meer weg te denken uit de internationale muziekscene.
Astatke mengt in zijn composities jazz met Latijns-Amerikaanse muziek en traditionele muziek uit zijn thuisland Ethiopië. Met Sketches of Ethiopia trakteren hij en zijn band de luisteraar op kleurrijke muziek uit de wereld van de internationale jazz, waarbij hij moderne grooves afwisselt met oude melodieën en westerse muziek met latin en Afro-funk ritmes.
"Jazz die westers èn Ethiopisch is. Astatkes tocht door de Ethiopische jazz is van uitstekende kwaliteit." (NRC Handelsblad)
"In Astatkes broeierige composities versmelten verschillende muziekwerelden even zo superieur tot een rijk geheel." (Trouw)
"Maestro Astatke rolt een grote variatie aan funky en soulvolle grooves uit, doorspekt met traditionele klanken." (Revolver's Lust for Life)
"Hij laat zich duidelijk inspireren door Gil Evans (vandaar de titel), die van organische opgebouwde klankkleuren hield." (Noord-Hollands Dagblad)