LANTARENVENSTER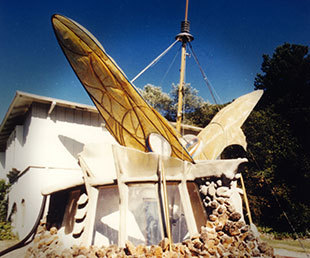 Special
TELOS: THE FANTASTIC WORLD OF EUGÈNE TSSUI + URBAN TIDES
Kyung Lee
VS
2014
58'
Engels gespr.
Deze voorstelling is verlopen
Het werk van Eugène Tssui - leerling van Bruce Goff - is een fusie van de gebroeders Das en de Earthship beweging. Dat lokt twee soorten reacties uit: mensen vinden hem geniaal of ze vinden hem een ontsporende gek. Of allebei. De film toont het fantastische werk en leven van Tssui en blijft boeien omdat zijn wijsheid en gekte elkaar steeds afwisselen.
Het is vooral pijnlijk om te zien dat de gestructureerde wereld van onderwijs en projectontwikkeling nauwelijks raad weten met de tomeloze luchtkastelen van Tssui. Dat wordt heel invoelbaar en pijnlijk in beeld gebracht.
Een prachtig portret van een ietwat trieste man die als een Don Quichot strijd voert voor de fantasie. En alleen al zijn strijd tegen het conformisme maakt deze film het bekijken waard.
Korte film:
Urban Tides
In 2012 nam een multidisciplinaire groep mensen het initiatief om een leeg en vervuild stuk land te ontwikkelen tot werk-en ontmoetingsplek. Ze kozen voor een doe-het-zelf benadering, om te bewijzen dat je geen geld nodig hebt om een gebied te ontwikkelen. De kantoren zijn gebouwd van een oer Hollands afvalproduct: afgeschreven woonboten.
Telos: The Fantastic World of Eugène Tssui
The work of Eugène Tssui – a pupil of Bruce Goff – blends the Das brothers with the Earthship movement. That provokes two types of reaction: people think he's a genius, or they think he's a lunatic gone off the rails. Or both.
Presenting the fantastic work and life of Tssui, the film captivates throughout because it constantly alternates between wisdom and madness.
It's especially troubling to see that the structured world of education and property development scarcely know how to deal with the unrestrained daydreams of Tssui. That is captured in a way that is both empathetic and troubling.
A splendid portrait of a somewhat sad man who fights for his fantasy like a Don Quichot. And that alone, his battle against conformism, makes this a film worth watching.
Short:
Urban Tides
Simone Eleveld, NL 2015 | 39 min. | English | documentary | world premiere
In 2012 a multidisciplinary group took the initiative to turn an empty and polluted piece of land into a work- and meeting place. Proving that you don't need money to develop an area, they decided to use a DIY approach and construct offices out of a very common Dutch waste product: scrap houseboats.
Deze voorstelling hoort bij: