LANTARENVENSTER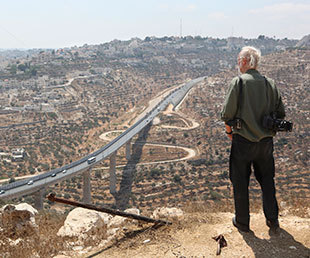 Special
KOUDELKA SHOOTING HOLY LAND
Gilad Baram
CZ, DE
2015
72'
Engels, Arabisch, Hebreeuws gespr.
Engels ond.
Deze voorstelling is verlopen
De Tsjechische fotograaf Josef Koudelka (1938) verwierf in 1968 grote faam als de anonieme Praagse fotograaf die de binnenvallende Sovjettroepen op foto vastlegde - iconische beelden van de tanks en soldaten die een eind maakten aan de Praagse Lente.
Veertig jaar later, het IJzeren Gordijn is al lang gevallen, reist hij naar Israël om daar tot zijn ontzetting geconfronteerd te worden met een nieuw ijzeren gordijn: de negen meter hoge muur die Israël scheidt van de Westelijke Jordaanoever. In de vier jaar die volgen richt Koudelka zijn camera op het leven daar - een leven dat getekend is door conflict, geweld, beton en prikkeldraad.
Deze documentaire van debuterend regisseur Gilad Baram levert een fascinerende confrontatie op tussen Barams cinematografie en Koudelka's fotografie; dankzij de lens van Baram maakt Koudelka plots deel uit van zijn eigen adembenemend mooie composities.
In 1968, Josef Koudelka took iconic photos of the Soviet invasion of Prague. It was the start of life behind the Iron Curtain. Forty years later, he travelled to Israel to photograph the Holy Land. The film offers a glimpse behind the lens of the world-famous Magnum photographer. Laden with cameras, he inspects the wall that separates Israel and Palestine. Guilty landscape. He crawls through barbed wire and is held back at border checkpoints. In the same painstaking way that Koudelka searches for the perfect image, this film shows him at work with insight and affection.
Deze voorstelling hoort bij:


Architecture Film Festival Rotterdam 2017
Evenals:
Didi Contractor - Marrying the Earth to the Building
It's all a Plan
Site of Sites
Toon alle 5 voorstellingen