LANTARENVENSTER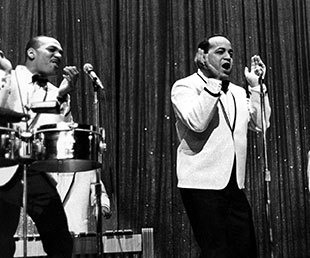 Special
WE LIKE IT LIKE THAT
Mathew Ramirez Warren
US
2015
82'
Engels gespr.
geen ond.
Deze voorstelling is verlopen
Deze swingende feel-good documentaire toont de ontwikkeling van de kleurrijke Latino Soul die in de jaren '60 in de straten van New York klonk. Een nieuwe generatie muzikanten uit Harlem, de Bronx en Brooklyn mixten de Afro Cubaanse muziek met R&B, jazz, funk en rock en creëerden zo de Latin Boogaloo. Een bewogen periode van revolutie en sociaal bewustzijn, waarin jonge Amerikaanse Latino's op zoek gingen naar hun roots en culturele identiteit. Op zaterdag aansluitend Boogaloo-feest in de foyer!
This swinging feel-good documentary shows the emergence of the colourful Latin soul that took over the streets of New York in de sixties. A new generation musicians from Harlem, the Bronx and Brooklyn started mixing Afro-Cuban music with R&B, jazz, funk and rock and in that way created the Latin Boogaloo. A troubled period of revolution and social awareness, during which young American Latinos started looking for their roots and cultural identity. On Saturday a Boogaloo party in the foyer after the film!