LANTARENVENSTER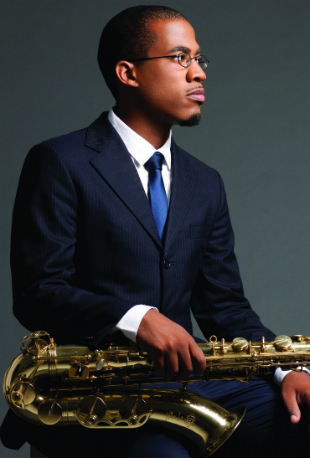 James Brandon Lewis - Days of FreeMan
Jazz
Jazz International Rotterdam presenteert:
JAMES BRANDON LEWIS TRIO
Deze voorstelling is verlopen
James Brandon Lewis is een saxofonist afkomstig uit Buffalo, New York. Hij heeft achtergronden in de gospel en jazz. Nadat hij zich had gevestigd als gospelmuzikant, besloot hij zijn muzikale horizon te verbreden.
Zijn solocarrière kreeg in 2010 gestalte, toen hij naam maakte met zijn debuutalbum Moments. Vorig jaar verscheen zijn laatste album Days of FreeMan, zijn moedigste en tegelijk meest tastbare artistieke uiting tot nu toe. Op het album liet hij zich inspireren door de hiphop uit zijn jeugd, maar klinken ook invloeden door van muzikanten zoals James Blood Ulmer en Ornette Coleman.
Het spel van deze tenorsaxofonist is puntig, hard en zeer direct. Hij werd al opgemerkt door mainstream cultuur-trendsetters zoals Ebony Magazine, die hem uitriep tot een van de "7 young players to watch" en verdiende respect van een groot en gevarieerd aantal gevestigde artiesten.
Lewis is duidelijk een improvisator van de toekomst. Hij gaf vorig jaar een overweldigend concert op Festival Jazz International Rotterdam, en was een van de grote verrassingen van het North Sea Jazz Festival 2016. Het nieuwe album No Filter is op 28 oktober uitgebracht. Er staan 6 tracks op en bevat samenwerkingen met o.a. Nicholas Ryan Gant, Anthony Pirog en P.SO the Earth Tone King.
... niets minder dan verpletterend ...een van meest opwindende jazztrio's die hier de laatste tijd te zien zijn geweest. (de Volkskrant, Gijsbert Kamer)
"Best concert since years: thanks @JBLEWIS1983, you make giant steps for music and tenorsax!" (Wilfried de Jong)
"Vanzelfsprekend en verrassend bleek ook de muziek van saxofonist James Brandon Lewis. Hij mengt free jazz met hiphop, dermate fris en bezield dat de zaal volledig plat ging. Het laatste nummer was een ode aan trompettist Don Cherry. 'Omdat hij risico's durfde te nemen,' zei Lewis. Dat waren geen loze woorden. Lewis heeft net als Roelofs, Scott, Washington en al die anderen begrepen dat je je moet uitstrekken, omdat de muziek die je droomt anders niet bereikbaar blijkt." (Trouw, Mischa Andriesen)
"Als je tenorsaxofonist James Brandon Lewis slechts enkele noten hebt horen spelen, vergeet je zijn naam nooit meer. Want de Amerikaan heeft een stijl die door alles heengaat en zich onherroepelijk vastklampt in je geheugen. Zijn tenorsaxofoon klinkt als een alt, scherp, afgebakend, puntig en gehaast. Zelfs in ballades is zijn manier van spelen hard en onverbiddelijk. Waarmee zeker niet gezegd wil zijn, dat emotie ontbreekt in zijn spel. Integendeel. James Brandon Lewis heeft die zo eigen speelwijze aangewend om luid en duidelijk kond te doen van zijn boodschap: zijn identiteit verder vormgeven. Om op die wijze te laten horen wie hij is, waar hij vandaan komt en wat zijn visie is op de wereld." (JazzNU.com, Rinus van der Heijden)
Bezetting:
James Brandon Lewis – tenorsaxofoon
Luke Stewart – basgitaar
Warren 'Trae' Crudup – drums