LANTARENVENSTER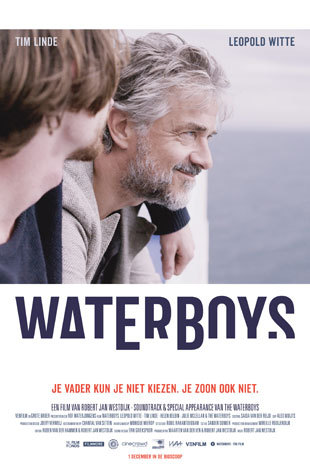 Film
WATERBOYS
Robert Jan Westdijk
NL
2016
93'
Nederlands gespr.
11E WEEK Deze voorstelling is verlopen
Waterboys vertelt het intens grappige en ontroerende verhaal van misdaadromanschrijver Victor en zijn cellospelende zoon Zack. Op dezelfde dag door hun vrouwen het huis uitgezet, moeten de mannen zichzelf en hun relatie opnieuw zien uit te vinden. Dat gebeurt tijdens een turbulente reis naar Schotland ter promotie van Victors nieuwste boek.
Een film over een vader die maar niet volwassen wil worden en zijn zoon, die het leven wat minder serieus zou moeten nemen.
De hoofdrollen in deze film van Robert Jan Westdijk (Zusje, Phileine zegt sorry) worden vertolkt door Leopold Witte (Gooische Vrouwen, Ventoux, Dokter Deen), aanstormend talent Tim Linde en de Schotse actrices Helen Belbin en Julie McLellan. Met soundtrack en special appearance van de vermaarde band The Waterboys (The Whole of the Moon).
★★★★ NRC
"Wat een genot om naar te kijken... een film met een hart, grappig en authentiek."
★★★★ de Volkskrant
"persoonlijk verhaal... een geestig script."
★★★★ Parool
"misschien wel de intiemste en tegelijk de meest grootse film die Westdijk heeft gemaakt sinds zijn debuut Zusje uit 1995."
★★★★ Telegraaf
"Intiem en humoristisch portret van vader en zoon."
★★★★ Trouw
"Ontroerende reis van toffe pa en zijn te serieuze zoon"
★★★★ De Filmkrant
"diep ontroerend coming-of-agedrama"
"Het scenario is... scherp, met z'n stiltes, humor en rolomkeringen."