LANTARENVENSTER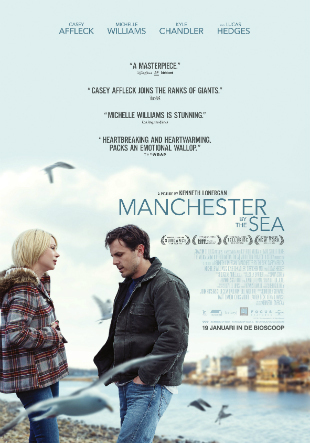 Film
MANCHESTER BY THE SEA
Kenneth Lonergan
VS
2016
137'
Engels gespr.
Nederlands ond.
LAATSTE WEEK Deze voorstelling is verlopen
Winnaar van de Oscar voor Beste acteur (Casey Affleck).
Manchester by the Sea vertelt het verhaal van de familie Chandler, een arbeidersgezin uit Massachusetts. Nadat zijn oudere broer Joe plotseling komt te overlijden, krijgt Lee de voogdij over zijn neef. Lee wordt herinnerd aan een tragisch verleden met zijn vrouw Randi in de omgeving waarin hij is opgegroeid.
Regisseur Kenneth Lonergan is vooral bekend van zijn werk als (toneel)schrijver. Zo werkte hij mee aan het scenario van Martin Scorsese's Gangs of New York en kreeg hij een Oscarnominatie voor zijn eerste eigen film, You Can Count on Me, uit 2000.
Manchester by the Sea was ooit bedoeld als film met en van Matt Damon, die het verhaal uitwerkte samen met Lonergan, maar uit tijdgebrek verstek moest laten gaan.
Met Casey Affleck vond Lonergan een uitstekende vervanger: "Affleck levert een knappe acteerprestatie, eentje die al rondgaat als kanshebber voor een gouden beeldje", schrijft Vanity Fair. In januari werd deze voorspelling al verzilverd met een Golden Globe.
★★★★★ Parool
"Formidabel... Dit is geen film, dit is opera."
★★★★ de Volkskrant
"zelden viel er zo veel te lachen in een loodzwaar drama... Onvergetelijk."
★★★★ VPRO Cinema
"Affleck maakt diepe indruk met zijn ingehouden hoofdrol."