LANTARENVENSTER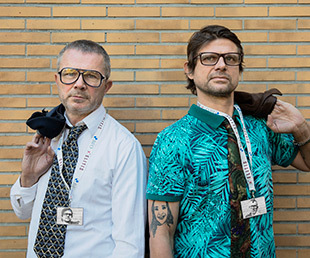 avontuurlijke jazz
Jazz International Rotterdam presenteert:
FLAT EARTH SOCIETY & DAVID BOVÉE
BOGGAMASTA
Deze voorstelling is verlopen
Dit is een concert met uitsluitend zitplaatsen.
Flat Earth Society is terug in Rotterdam! Na spraakmakende concerten als Terms of Em-barr-ass-ment en concerten met Ernst Reijseger en Jimi Tenor komen ze nu met het programma Boggamasta met gastgitarist David Bovée. Deze Flat Earth Society-gitarist van het eerste uur verliet de band zo'n dertien jaar geleden om zich volledig op zijn project Think of One te kunnen storten, waarvoor hij in 2004 en 2007 bekroond werd met de BBC Radio 3 World Music Award. David woont en werkt in São Paulo, Brazilië, en kent de Zuid-Amerikaanse muziekstijlen Maracutu, Frevo, Ciranda en Coco door en door.
In Boggamasta herenigen Flat Earth Society en David Bovée zich weer. Peter Vermeersch, de frontman van de band, en Bovée schreven voor dit project een uitbundig repertoire. Ze laten het woord Frevo feestelijk achter zich en brengen hun eigen directe, energieke en uitzinnige muziek: broeierig, met drive en groove en veel electro!
Frontman van Flat Earth Society is Peter Vermeersch, componist, rietblazer en producer (van onder andere de eerste cd van dEUS, Raymond van het Groenewoud, Mad Dog en Het Zesde Metaal). Hij maakte muziek met tal van eigen groepen, hij componeerde voor theater- en dansproducties van onder anderen Wim Vandekeybus, Anne Teresa De Keersmaeker en Josse de Pauw. Daarnaast schreef hij voor het Arditti Quartet. De band wordt, naar gelang de producties, aangevuld met gastmuzikanten. In het verleden werd samengewerkt met onder anderen Uri Caine, Toots Thielemans, Jimi Tenor, Ernst Reijseger en Mauro Pawlowski.
Bezetting:
David Bovée - gitaar en zang
Benjamin Boutreur - altsax
Peter Vermeersch - tenorsax en zang
Michel Mast - tenorsax
Bruno Vansina - baritonsax en fluit
Bart Maris - trompet
Peter Delannoye - trombone
Thomas Mayade - trompet
Marc Meeuwissen - trombone
Berlinde Deman - tuba
Peter Vandenberghe - keyboard en laptop
Pierre Vervloesem - basgitaar
Kristof Roseeuw - contrabas en viool
Teun Verbruggen - drums en percussie
Amel Serra Garcia - percussie