LANTARENVENSTER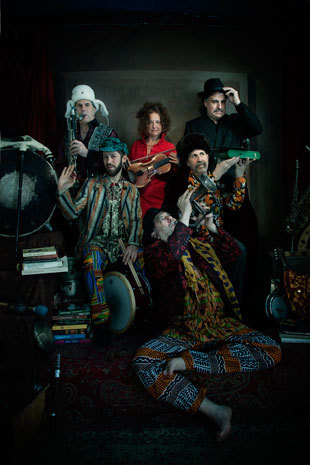 Fotografie: Adrian Buckmaster
klezmer, balkan, latin, jazz
THE KLEZMATICS
APIKORSIM-HERETICS
Deze voorstelling is verlopen
Geen klezmerband zo veelzijdig, avontuurlijk en 'rock 'n roll' als The Klezmatics.
De New Yorkse groep, icoon van de hedendaagse klezmer, viert zijn dertigste verjaardag met een nieuw album en een wereldtournee. Geen enkele andere groep wist zich de klezmer en Jiddische muziek zo toe te eigenen en zo te herdefiniëren. De groep rond Lorin Sklamberg en Frank London mixt jazz, folk, rock, pop, funk, balkan, gospel, avantgarde en klassiek. Liedjes of cd's met titels als NY Psycho Freyleks, Rhythm + Jews en Jews with Horns - niets is te dol. Of klezmer op Woody Guthrie-teksten, zoals het op het album Wonder Wheel, dat in 2006 beloond werd met een Grammy Award voor beste wereldmuziekalbum, vooralsnog een unicum voor een klezmergroep.
The Klezmatics maken esthetische, staatkundige en muzikaal interessante opnames, inspireren toekomstige generaties en dragen bij aan het beeld van de hedendaagse Jiddische gemeenschap. De band wordt daarom vaak een 'Jewish roots band' genoemd. De muziek die zwervende, joodse muzikanten in de vorige eeuw in Oost-Europa speelden, wordt weer tot leven gewekt op het nieuwe album Apikorsim-Heretics. Ketters, rebellen en vragenstellers; Apikorsim zijn mensen die orthodoxe meningen uitdagen en aan de kaak stellen. De songs verkondigen de rechten van vluchtelingen en werknemers, zingen extatisch voor een betere wereld en treuren om haar verliezen. Afwisselend prijzen ze de heer, en stellen ze vragen bij de aard van zijn bestaan. Apikorsim is het eerste Klezmatics album zonder speciale gasten. Luister naar het pure geluid van de band zelf, een geluid dat publiek van over de hele wereld al dertig jaar lang in verrukking heeft gebracht. Het is een groep die graag provoceert, maar ook vindt dat elk optreden een goed dansbaar feest moet zijn!
"The Klezmatics aren't just the best band in the klezmer vanguard; on a good night, they can rank among the greatest bands on the planet." - Time Out New York
Film: The Klezmatics: On Holy Ground
Voorafgaand aan het concert, om 19:00 uur, draait The Klezmatics: On Holy Ground, een mooie documentaire waarin de band vier jaar gevolgd werd.
Koop een combikaart voor film én concert à € 25!


Bezetting:
Lorin Sklamberg - zang, piano, accordeon
Deborah Strauss - viool
Frank London - trompet, keyboards
Merlin Shepherd - klarinet
Paul Morrissett - bas
Richie Barshay - drums