LANTARENVENSTER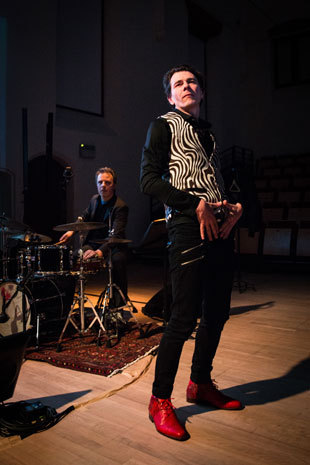 Fotografie: Geert Vandepoele
spoken word, jazz, film
DIMITRI VERHULST & TOO NOISY FISH
NIGHTWATCH
Deze voorstelling is verlopen
Dit is een concert met uitsluitend zitplaatsen.
Nightwatch is een samenwerking tussen schrijver Dimitri Verhulst (o.a. bekend van De helaasheid der dingen), de band Too Noisy Fish (Peter Vandenberghe, Kristof Roseeuw en Teun Verbruggen) en Trisha De Cuyper en Jan Lapeire (video). Het programma is in september 2016 in de Bijloke in Gent première gegaan.
Twee films worden simultaan en in dialoog met elkaar geprojecteerd. Eén film, Sisters, toont twee meisjes die aanwezig zijn in een chique maar vervallen villa. Wat ze er doen of waarom ze er zijn is niet duidelijk. Waarop wachten ze? De tweede film, Nightwatch, is het portret van een nachtwaker in het centrum van een grote stad. Hij lijkt de meisjes vanuit zijn locatie te observeren. De twee werelden mengen zich niet. Door de simultane projectie is er een verband en een sterke spanning, als in een abstracte thriller.
De tekst van Dimitri Verhulst, die hij live in 'spoken word' brengt, is geen verhaal of duiding, maar een evocatie van 'la condition humaine'. De mens is, wacht, twijfelt, verlangt, zoekt naar connectie en vervulling,... en valt telkens terug op zichzelf. Too Noisy Fish creëert een broeierige soundtrack waarbij filmmuziek, jazz, improvisatie en hedendaags gecomponeerde muziek hand in hand gaan.
Het geheel is een driedimensionale expressie over het tevergeefse en onvermijdelijke waarbij de toeschouwer zelf het verhaal vormgeeft.
Bezetting:
Dimitri Verhulst - tekst, spoken word
Peter Vandenberghe - composities, piano en keyboards (Flat Earth Society)
Kristof Roseeuw - contrabas (Flat Earth Society, Slijk met Wouter Deprez)
Teun Verbruggen - drums en percussie (Flat Earth Society, Jef Neve)