LANTARENVENSTER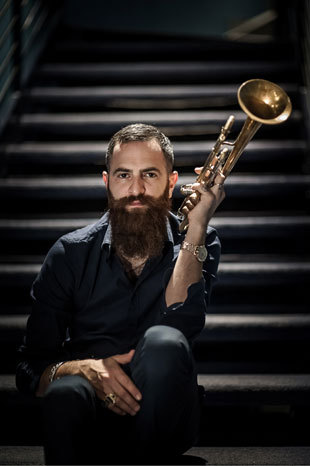 Fotografie: Roberto Cifarelli
moderne jazz
AVISHAI COHEN (TRUMPET) QUARTET
UITVERKOCHT Deze voorstelling is verlopen
Dit is een concert met alleen zitplaatsen.
Trompettist Avishai Cohen (Tel Aviv, 1978) laat de geest van Miles Davis in zijn spel horen. "Like Davis, he can make the trumpet a vehicle for uttering the most poignant human cries", aldus The New York Times.
Cohen koppelt de melancholieke muzikale ondertoon van zijn vaderland Israël aan die van de Amerikaanse jazz. Dat doet hij zowel in zijn eigen composities als in eigen interpretaties van muziek van onder meer Dizzy Gillespie, Charles Mingus en Ornette Coleman. Cohen speelde zijn eerste noten als solist al in 1988, en toen hij later met een beurs naar het Berklee College of Music in Boston mocht, was hij al een volleerd muzikant. Toch kwam hij als jazzman pas echt tot wasdom toen hij in de New Yorkse jazzclub Smalls kon spelen.
Zijn laatste album Into the Silence met louter eigen composities, Cohens debuut op het label ECM, is een emotionele reflectie op de laatste dagen van zijn vader David. Dit album was in 2016 het best verkopende jazzalbum in Nederland, Belgie, Frankrijk en Duitsland. Dit voorjaar brengt ECM het nieuwe album van Avishai Cohen uit, getiteld Cross My Palm With Silver.
"Arguably the most exciting Israeli jazz musician in the world." - The Chicago Reader
"Avishai Cohen has rather quietly become one of the most creative trumpet players in jazz." - JazzTimes
"Smaakvol diepgevoeld album van trompettist Avishai Cohen, die uitblinkt met zijn pure geluid. Ingetogen jazz in melancholische winterkleuren." - NRC Handelsblad
Bezetting:
Avishai Cohen - trompet
Gadi Lehavi - piano
Barak Mori - bas
Ziv Ravitz - drums