LANTARENVENSTER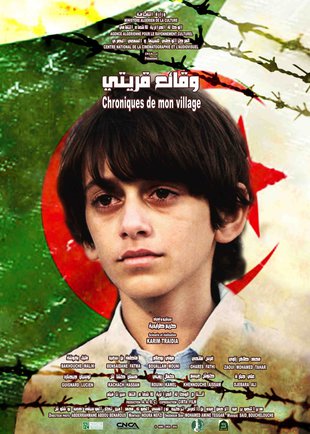 Special
CHRONICLES OF MY VILLAGE
Karim Traïdia
DZ
2016
93'
Arabisch gespr.
Engels ond.
Deze voorstelling is verlopen
Na de film zijn de Nederlands-Algerijnse regisseur Karim Traïdia én de Rotterdamse actrice Nora El Koussour uit de voorfilm Aziza te gast voor een Q&A.
In deze dorpskroniek keert Karim Traïdia terug naar zijn eigen kindertijd op het Algerijnse platteland ten tijde van de onafhankelijkheidsoorlog.
De negenjarige Bachir heeft een duidelijk omlijnde ambitie: zoon van een martelaar worden. Zijn vader verliet het gezin jaren eerder voor een teruggetrokken bestaan in de bergen, en Bachir heeft gehoord dat kinderen van martelaars een gouden toekomst wacht.
In zijn belevingswereld doet zijn toekomstdroom niets af aan de loyaliteit die hij voor zijn vader voelt. Net zo min als zijn vriendschap met een Franse soldaat iets zegt over zijn vaderlandsliefde. Bachirs fantasie en nieuwsgierigheid tekenen zijn kinderlijke onschuld, maar ze blijven in oorlogstijd niet zonder gevolgen.
In this rural chronicle, Karim Traïdia goes back to his childhood in the Algerian countryside, at the time of the Independence war. Nine-year old Bachir wishes to become the son of a martyr since children of martyrs awaits great futures. Years before, his father abandoned his family and chose a reclusive life in the mountains. Bachir's dreams do not detract from his loyalty to his father – just as his friendship with a French soldier does not implicate his patriotism. Despite the childlike innocence of his fantasies and his curiosity, during wartime, they will not go without consequences.
Voorfilm:
Aziza
Jochem de Vries | Netherlands | 13 min | Dutch, Arabic spoken | English subtitles
De jonge Amsterdamse Aziza, gespeeld door Nora El Koussour (_Layla M.) worstelt met een probleem waar ze bij niemand mee terecht kan.
Haar oudere broer heeft door dat ze iets verbergt en houdt haar voortdurend in het oog.
Maar is haar broer echt zo onverzoenlijk als hij zich voordoet?
Aziza, a young Muslim girl living in Amsterdam, feels lost as she does not seem to find a person to confide in, when struggling with a personal issue. Her overprotective brother suspects that she is hiding something and keeps her under tight control. But is her brother really as unforgiving as he's pretending to be?
Deze voorstelling hoort bij: