LANTARENVENSTER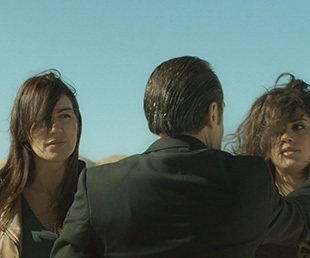 Special
NUTS
Henri Barges
LB
2016
107'
Arabisch gespr.
Engels ond.
Deze voorstelling is verlopen
In deze frisse en energieke misdaadkomede besluiten twee vriendinnen hun verveelde upper middle class leventje in Beiroet wat op te schudden.
De koelbloedige Lana blijkt een natuurtalent aan de pokertafel en een bookmaker introduceert haar in het criminele gokcircuit. In haar kielzog komt Jenny mee, die voornamelijk wordt gedreven door een honger naar gevaarlijke liefde. Geen wonder dat de vlam in de pan slaat zodra ze hitman Wael ontmoet.
De makers halen alle stijlmiddelen uit de kast om je mee te slepen in de roes van het gevaar: een stuwende soundtrack, gedurfde cameravoering en vlotte montage, plus een scenario waarin de plotwendingen elkaar in hoog tempo opvolgen. De dames spelen hoog spel; kunnen ze zich handhaven in deze mannenwereld?
In this refreshing and energetic crime-comedy, two women decide to shake up their boring bourgeois life in Beirut. Housewife Lana, an inner sangfroid and outer beauty, seems to have a natural talent for gambling and sparks the interest of a local bookmaker who introduces her in the criminal world of gaming networks. Her best friend Jenny, who has a natural attraction for danger, accompanies her and falls in love with amoral hitman Wael. The producers of the movie have pulled out all cinematographic stops to drag the spectator into the danger of the gambling world: the intense soundtrack, the audacious camera angles, the smooth-flowing narrative and a scenario full of twists that will blow your mind. The two women play for high stakes: can they hold their own in this male-dominated world?
Voorfilm:
All the rest is the work of a man
Doria Achour | France | 2016 | 14 min | French, Arabic spoken | English subtitles
Aymen, een jonge Tunesiër, steekt net zoals vele anderen uit wanhoop de Mediterrane zee over.
Na lange en gevaarlijke tochten komt hij terecht in Marseille. Hij gaat er op zoek naar zijn zus, die hij al 20 jaar niet meer gezien heeft. Het weerzien loopt echter niet zoals verwacht.
Aymen, a young Tunisian refugee, traverses the Mediterranean Sea, as he, like many others, is captured by a sense of mounting despair. Arrived in Europe, Aymen heads to Marseille, where he hopes to find his long-lost sister. However, their reencounter takes an unexpected turn of events.
Deze voorstelling hoort bij: