LANTARENVENSTER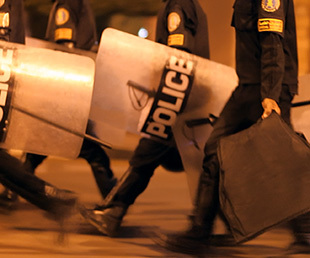 Special, Film
WHOSE COUNTRY?
Mohammed Siam
EG
2016
57'
Arabisch gespr.
Engels ond.
Deze voorstelling is verlopen
Het regime van Mubarak verleende de Egyptische politie een vrijbrief voor elke vorm van machtsmisbruik. Willekeurige arrestaties, marteling en verdwijningen hebben de politie tot de meest gevreesde en gehate beroepsgroep gemaakt.
In Whose Country? spreekt een van hen voor het eerst openlijk over de cultuur van corruptie, misbruik en geweld. In de begindagen van de Arabische Lente wint filmmaker Mohamed Siam het vertrouwen van een agent in burger, die uit de revolutie de hoop put dat ook het verrotte systeem waarvan hij zelf deel uitmaakt op de schop zal gaan.
Over een periode van drie jaar houden de twee contact. Zo vormen de gesprekken, waarin hoop langzaam plaatsmaakt voor fatalisme, ook een kroniek van een gemankeerde revolutie.
Mubarak's regime granted the Egyptian police a free pass to misuse their power in any way they deemed necessary. Arbitrary arrests, torture and disappearances are only a few of the horrific actions that make the police the most feared and hated group of Egypt. In Whose Country?, for the first time, it is a police officer who dares to talk openly of the culture of corruption, abuse and violence. In the early days of the Arab Spring, filmmaker Mohamed Siam earned the trust of a plainclothes offices, who fosters some hope that the revolution will put an end to the rotten system to which he himself belongs. They keep in contact for three years during which his hope makes way for a great feeling of despair and fatalism: inevitably, their conversations reflect another chronicle of a failed revolution.
Deze voorstelling hoort bij: