LANTARENVENSTER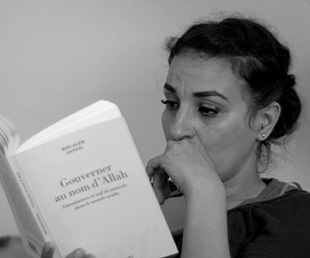 Special
INVESTIGATING PARADISE
Merzak Allouache
DZ
2016
136'
Arabisch gespr.
Engels ond.
Deze voorstelling is verlopen
Exquise wijn en beeldschone maagden - 72 voor elke man! Dergelijke fantastische voorstellingen van het hiernamaals worden via YouTube verspreid door salafistische sjeikhs.
In Investigating Paradise onderzoekt journaliste Nedjma hoe gelovige Algerijnen over het leven na de dood denken en hoe deze fantasieën doorwerken in de dagelijkse realiteit.
Ook de film zelf mengt documentaire met fictie: Nedjma is een personage, de interviews zijn echt. In de levendige gesprekken komen relevante vragen aan bod, zoals: wie streeft er nog naar een betere samenleving of een gelukkiger leven wanneer alle menselijke behoeften worden geprojecteerd op het paradijs? Maar ook: wat heeft dat paradijs een vrouw eigenlijk te bieden?
Exquisite wine and ravishing beauties – 72 for every man! This type of representations on the Afterlife are being promulgated on the Youtube channels of Salafi preachers.
In Investigating Paradise, the young Algerian journalist Nedjma investigates the way religious Algerians think about life after death and how these fantasies influence their daily life. Just like their fantasies, the film is a powerful combination of real-life documentary and fiction: Nedjma is a character, the interviews are real. In the numerous animated conversations, pertinent issues are being discussed. When all human needs are being saved for Paradise, is there any point in striving for a better society or a happier life on earth? And also, what awaits female Muslims in paradise?
Deze voorstelling hoort bij: