LANTARENVENSTER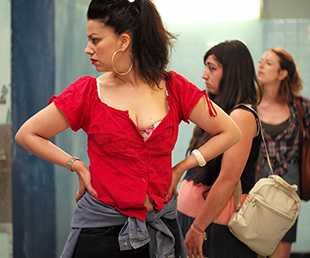 Special
VISITING OURS
Rachida Brakni
DZ
2016
82'
Arabisch gespr.
Engels ond.
Deze voorstelling is verlopen
In dit sterke regiedebuut belicht Rachida Brakni het gevangenisleven vanuit een verfrissend perspectief: dat van de bezoekers.
Fatma en haar dochter Nora rijden samen naar de penitentiaire instelling waar hun zoon en broer zijn straf uitzit. Zij zijn niet de enigen die hopen om hun geliefden weer te zien. Voorbij de drempel zijn ze overgeleverd aan het gevangenisregime van controles, wachten, doorgesluisd worden naar een andere ruimte, weer wachten.
Door de hitte, de verveling en dat eindeloze afwachten, komen frustraties en verwijten aan de oppervlakte. In de onderlinge conflicten wordt duidelijk welke straf de geliefden van de gedetineerden moeten uitzitten.
In her strong debut film, Rachida Brakni portrays life in prison from an unusual perspective as she focusses on the – mainly female - visitors of the prisoners. On an exceptionally heated day, Fatma heads to the institution, accompanied by her daughter Nora, where her son is incarcerated. They are not the only ones hoping to see their loved ones. From the moment that they enter the prison building, the visitors are subjected to the whims of the prison guards: in the blazing heat, the women are being channelled from room to room as frustrations and agitations generate. The conflicts that are bubbling to the surface adequately reflect the struggle of those who have family in prison.
Voorfilm:
Submarine
Mounia Akl | Lebanon | 2016 | 20 min | Arabic spoken | English subtitles
Libanon, in een niet meer zo onrealistische toekomst. Het land wordt sinds 2015 geteisterd door een afvalcrisis. In een klein dorp is de situatie onhoudbaar geworden en besluiten de bewoners om definitief te vertrekken. De jonge Hala weigert echter mee te vluchten, vastklampend aan wat er nog rest van haar thuis.
Lebanon, in a not too dystopian near future. Lebanon's garbage crisis poses a heavy burden on a little village, whose inhabitants decide to leave the town for good. Hala, a wild child inside of a woman, refuses to evacuate, clinging to whatever remains of home and to keep alive, if only for a moment, the ghost of a better time.
Deze voorstelling hoort bij: