LANTARENVENSTER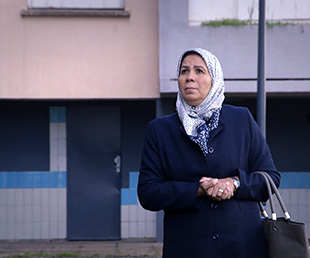 Special
LATIFA, A LIFE STANDING
Jarmila Buzkova
FR
2016
51'
Frans gespr.
Engels ond.
Deze voorstelling is verlopen
Op 11 maart 2012 stierf Imad ibn-Ziaten, onderofficier in het Franse leger, in de eerste van drie schietpartijen door de 23-jarige Mohamed Merah.
Sinds de dag waarop Latifa, moeder van Imad, een bezoek bracht aan de achterstandswijk in Toulouse waar de aanslagpleger opgroeide en waar sommige bewoners hem nog altijd als martelaar beschouwen, zet zij zich in om de radicalisering van jongeren uit de banlieues te bestrijden. Recht uit het hart spreekt ze in klaslokalen en collegezalen, op congressen en in gevangenissen door het hele land.
Dit inspirerende portret laat zien hoe haar activistische boodschap overal een snaar raakt; bij de jongeren zelf, bij hun ouders en docenten, maar ook bij beleidsmakers en politici.
Imad ibn-Zaiten, a young officer in the French army, was one of the first victims of the terror attack carried out by 23-year old Mohamed Merad in 2012. In the aftermath of the events, Latifa, the mother of Imad, decides to visit the suburbs of Toulouse, home to the murderer, where some residents still praised him as a heroic martyr. There Latifa was confronted with the negative aspects of living in the suburbs. From that day on, Latifa crossed the country, visiting classrooms, auditoria, congresses and even prisons, in her fight against radicalization in the banlieues. The documentary is an inspiring and powerful portrait of Latifa, whose heartfelt message on acceptation and tolerance has touched young people, parents, teachers and even politicians.
Voorfilm:
Nothing is forgiven
Vincent Coen & Guillaume Vandenberghe | France | 2016 | 60 min | Documentary |French spoken | Dutch subtitles
Sinds de aanslag op Charlie Hebdo hoort Zineb El Rhazoui tot de zwaarst beveiligde inwoners van Frankrijk. De Marokkaanse journaliste en activiste, die samen met Stéphane "Charb" Charbonnier het stripboek La vie de Mahomet maakte, ontsnapte bij toeval aan het terreurgeweld, maar is sindsdien haar leven niet zeker. In dit portret zien we haar in 2011 als boegbeeld van de 20 februari-beweging tijdens protesten in Rabat, een paar jaar later als redacteur op het kantoor van Charlie Hebdo en in januari 2015, enkele dagen na de aanslag, in de voorste linie van een massale betoging op de Place de la République. En in de periode daarna waarin ze, zwanger van haar eerste kind, de draad weer probeert op te pakken.
Zineb El Rhazoui is France's most protected woman since the attack on the Charlie Hebdo magazine office in Paris. The Moroccan activist and journalist, and also co-editor alongside the editor-in-chief "Charb" Charbonnier of the comic book Muhammed's life, had escaped the violence by sheer luck. The makers of the documentary had never expected to be able to record such course of events: they started following her when she was still living in Rabat, where she was the figurehead of the 20 February Movement, and travelled with her to France as she become an editor at Charlie Hebdo. Therefore, the spectator is confronted with raw dramatic moments, following how she tries to move on with her life, becoming a mother for the first time.
Deze voorstelling hoort bij: