LANTARENVENSTER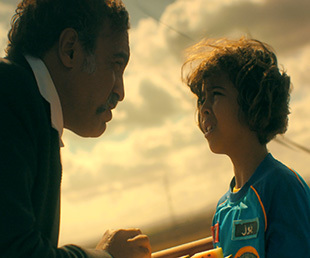 Special
HEADBANG LULLABY
Hicham Lasri
MA, FR, LB, QA
2017
111'
Arabisch, Frans gespr.
Engels ond.
Deze voorstelling is verlopen
Vijf jaar nadat hij bij het broodoproer van 1981 hoofdletsel opliep, is politieman Daoud nog altijd niet dezelfde.
Door de metalen plaat in zijn hoofd raken radio- en tv-signalen van slag, de relatie met zijn vrouw is danig verstoord en zijn gezicht is verlamd. Dat laatste maakt hem tot een uitgelezen hoofdpersonage voor deze deadpan comedy van Marokko's meest originele filmmaker van dit moment, Hicham Lasri.
Terwijl het land in euforie is losgebarsten over een historische overwinning van het nationale voetbalteam, krijgt Daoud een oproep om een afgelegen brug te bewaken waar de koning misschien komt langsrijden. In een reeks absurdistische gebeurtenissen en ontmoetingen ontstaat een beeld van de onofficiële geschiedenis van het land.
Police officer Daoud hasn't been the same since he suffered a severe head injury during the bread riots in 1981. Five years later, the metal plate in his skull still causes radio and television signals to malfunction, the relationship between him and his wife is disturbed and his face is paralyzed. This makes him the ideal main character of this deadpan comedy by Morocco's most original film producer, Hicham Lasri. As euphoria reigns and celebrations erupt following the historical victory in the football world cup finale, Daoud is tasked to guard on a bridge where King Hassan II could possibly drive by. In a string of absurd events and encounters, the unofficial history of the country emerges.
Deze voorstelling hoort bij: