LANTARENVENSTER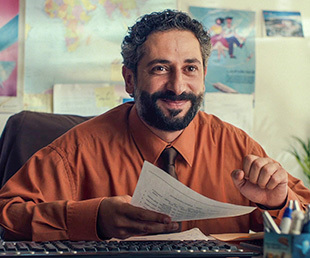 Special, Film
THE TRAVELLER
AL MOSAFER
Hadi Ghandour
FR, LB
2016
100'
Arabisch, Frans gespr.
Engels ond.
Deze voorstelling is verlopen
Wie reisagent Adnan hoort spreken over Rome of New York krijgt onmiddellijk zin om erheen te reizen. Maar ironisch genoeg heeft hij zelf nog nooit een vliegtuig van binnen gezien.
Daar komt verandering in wanneer zijn werkgever een been breekt en Adnan in zijn plaats naar een belangrijke conferentie in Parijs stuurt. Voor de schuchtere provinciaal is de internationale reiswereld behoorlijk overweldigend. Hij voelt zich meer op zijn gemak bij de eigenaar van een Libanees restaurant en bij zijn nicht Insaf, die met haar volwassen dochter Layla een statig appartement bewoont.
In vijf dagen Parijs maakt Adnan meer mee dan in de vijf jaar die hij achter zich heeft en leert hij veel over de wereld, maar meer nog over zichzelf.
Hearing travel agent Adnan talk about the delights of Rome and New York, makes one tempted to pack their bags and leave right away. The irony is that Adnan himself has never left Lebanon. His fantasy turns into reality when his employer breaks his leg while dancing at a wedding and sends Adnan in his place to an important travel conference in Paris. The international experience is pretty overwhelming for Adnan, a shy man from a small Lebanese village. He feels more comfortable around the owner of a Lebanese restaurant and around his cousin Insaf, who lives in a spacious apartment with her grown daughter Layla. In five days of Paris, Adnan has experienced more than he did in five years, as he also learns a lot about the world and about himself.
Voorfilm:
Ennemies within
Sélim Azzazi | France | 2016 | 27 min| French spoken | English subtitles
Frankrijk, jaren 90. Een Algerijnse man wil de Franse nationaliteit verkrijgen. In een klein zaaltje bevindt hij zich oog in oog met een Franse politieagent. Enkel de handtekening van de agent staat hem nog in de weg.
France, in the 1990s. An Algerian man finds himself at a local police station in the hopes of obtaining the French citizenship. A policeman's stroke of the pen is the only thing standing in between him and his fate.
Deze voorstelling hoort bij: