LANTARENVENSTER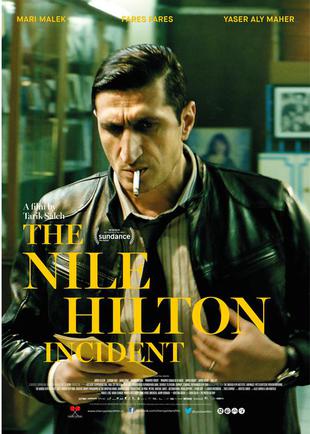 Special
THE NILE HILTON INCIDENT
Tarik Saleh
SE, DK, DE
2017
107'
Arabisch, Deens gespr.
Engels ond.
Deze voorstelling is verlopen
Aan de vooravond van de Tahrir-opstanden houdt een door en door corrupt politiekorps het openbare leven in Caïro in zijn greep.
Ook rechercheur Noredin Mustafa laat heel wat smeergeld in zijn binnenzak verdwijnen. Dan wordt hij naar een hotelkamer van het Nile Hilton geroepen, waar een moord is gepleegd. Nog voor hij de kans krijgt de misdaad te onderzoeken wordt de zaak van hogerhand gesloten, maar ze laat Noredin niet meer los. Het opsporen van de doodsbange getuige, een illegale migrante uit Soedan, is maar een van zijn uitdagingen; want het spoor van de verdachte brengt hem gevaarlijk dicht bij een onkwetsbare elite die zich immuun waant voor justitie.
Trefzekere maatschappijkritiek, verpakt in een nagelbijtende thriller noir.
On the eve of the Tahrir Square uprising, a thoroughly corrupt police force keeps a tight grip on the population of Cairo. Police detective Noredin is usually quite susceptible to bribery himself. However, things change for him when he is called to investigate a murder scene at a hotel room in the luxurious Nile Hilton. When the authorities decide to close the case without further investigation, Noredin becomes all the more determined to unravel the truth. Tracking down a terrified witness, an illegal immigrant from Sudan, turns out to be only one of his challenges, as his line of inquiry leads him straight to one of the seemingly untouchable elites of Egypt: a mighty character who appears to be immune from justice. Swedish-born director Tarik Saleh skillfully molds his poignant social critique into a chilling neo-noir thriller.
Voorfilm:
Law of the Lamb
Lotfi Achour | France, Tunisia | 2016 | 15' | Arabic spoken | English subtitles
Met het Offerfeest in zicht, begeeft een oudere man, vergezeld door zijn kleinzoon, zich naar de markt.
Zijn kleine camionnette is volgeladen met schapen voor de verkoop. Midden in de woestijn wordt hij gestopt door twee politieagenten. Enkel op voorwaarde van een ongewone ruil mogen ze doorrijden.
With Eid al-Adha just around the corner, an older man and his grandson are heading to a local market to sell their sheep. While driving along a road in the Tunisian desert, they are stopped by two policemen. In order to be allowed to continue, they have to accept a strange and unusual deal.
Deze voorstelling hoort bij: