LANTARENVENSTER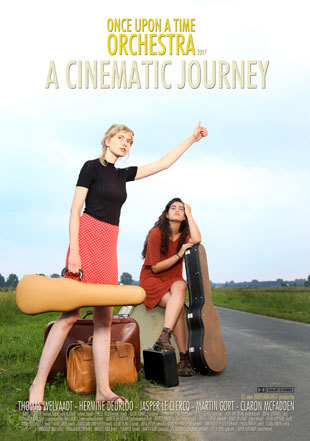 bigband concert
ONCE UPON A TIME ORCHESTRA
A CINEMATIC JOURNEY, MET O.A. CLARON MCFADDEN, HERMINE DEURLOO EN JASPER LE CLERCQ
Deze voorstelling is verlopen
Dit is een concert met een pauze.
Het Once Upon a Time Orchestra is een groot hybride orkest met een ritmesectie, saxen, hout- en koperblazers en een flinke strijkerssectie.
Onder leiding van trompettist en arrangeur Thomas Welvaadt maakt het orkest een muzikale wereldreis door de filmgeschiedenis van de jaren vijftig tot nu. In alle stijlen: orkestrale stukken, mambo's, traditionele volksliedjes, jazz, funk…
Er worden nieuwe landen bezocht, en onbekende dranken en spijzen geproefd. Er wordt geschuild voor regen en zandstormen en er moet gerend worden om boten en treinen te halen. Er zijn ontmoetingen met veel nieuwe mensen: helden en sullen, inspirerende bedelaars en saaie koningen, exen en nieuwe liefdes.
Er zal een zeer divers programma aan filmmuziek te horen zijn van Turks Fruit tot Arabesque, van Amarcord tot Skyfall. Van From Russia with love tot The Last Emperor. En van The Color Purple via In The Heat of the Night naar The Untouchables.
Als solisten zijn onder andere te horen: Hermine Deurloo (mondharmonica), Jasper le Clercq (viool) en Claron McFadden (zang).
Bezetting:
Thomas Welvaadt (dirigent/arrangeur)
Hermine Deurloo (mondharmonica)
Claron McFadden (vocaal)
Jasper le Clercq (viool/aanvoerder strijkers)
Jenny Thorissen (trompet, bugel)
Leo Alleman (trompet, bugel)
Cyrelle Failé (trompet, bugel)
Guido Hommel (trombone)
Nanko Brattinga (trombone)
Peter Geurts (trombone)
Henk Jan Ensing (bastrombone)
Donia Surowiec (tuba)
Roosmarijn Busch (alt-/sopraansaxofoon)
Emiel Rorije (tenorsaxofoon/klarinet)
Annette de Greeuw (baritonsaxofoon/fluit)
Geertje Hoekstra (fluit/altfluit/piccolo)
Michel Hubens (klarinet)
Raads Welvaadt (hobo/althobo)
Thera Koppenol (viool)
Annah Posthumius (viool)
Annet Smits (viool)
Marga van Lonkhuijsen (viool)
Liesbeth Muijs (viool)
Rosa Visser (altviool)
Dorothee van Geffen (altviool)
AnnemariJe Plaizier (altviool)
Paula Dooren (cello)
Clara Linders (cello)
Angelique Boel (cello)
Pamela Mercera (cello)
Annelies Kole (harp)
Eva Korse (drums)
Martin Gort (percussie)
Eric Hartgers (basgitaar/contrabas)
Peter Stoel (gitaren)
Jasper Huiskamp (piano/toetsen)
Een project van Buitenkunst, die eerder XLJAZZ produceerde (tien seizoenen in het Bimhuis, LantarenVenster, Lux) en de Compact Concert Club.