LANTARENVENSTER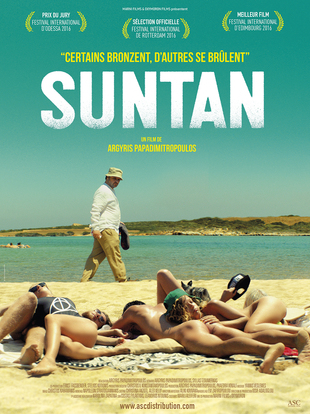 Special
SUNTAN
Argyris Papadimitropoulos
GR
2016
104'
Grieks, Engels gespr.
Engels ond.
Deze voorstelling is verlopen
Kostis, een introverte, kalende, zwaarlijvige dokter van middelbare leeftijd woont en werkt op het kleine Grieks eiland Antiparos.
In de winter is er weinig te doen, maar wanneer de zomer aanbreekt transformeert het tot de hedonistische happiness space voor 's werelds grootste feestbeesten.
Kostis leidt een teruggetrokken bestaan tot hij verliefd wordt op prachtige, jonge Anna die hem meeneemt op avontuurlijke eilandtochten, naar het naaktstrand en naar uitzinnige drinkfeestjes met haar vrienden. Niet in staat zich een leven zonder zijn sensuele muze voor te stellen verliest hij alle controle over zijn gevoelens voor haar.
Deze bitterzoete Coming-of-Middle-Age film is zo hilarisch als dat hij oncomfortabel is. Een ode aan de jeugd: vergankelijk, mooi, en gevaarlijk als een suntan.
Kostis, an introvert, balding, overweight middle-aged doctor lives on the small Greek island Antiparos. In winter there is little to do, but in summer it transforms into a hedonistic happiness space for the worlds international party people.
Kostis leads a calm secluded live until he falls in love with beautiful young Anna who takes him along on island explorations, trips to the nude beach and to outrageous drinking parties together with her friends. Not able to imagine a life without his sensual muse Kostis soon loses control over his feeling for her.
This bittersweet Coming-of-Middle-Age film is as hilarious as it is uncomfortable. An homage to youth: transient, beautiful and dangerous like a suntan.
Deze voorstelling hoort bij: