LANTARENVENSTER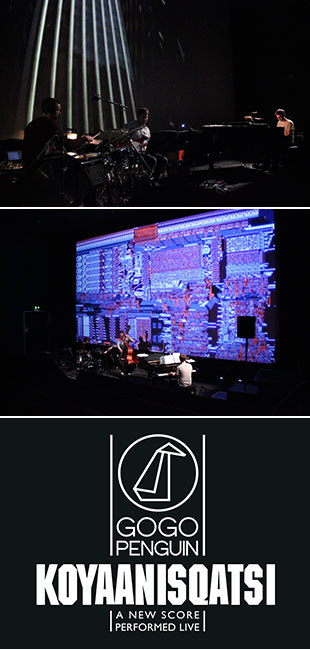 filmconcert
AFFR en LantarenVenster presenteren als afsluiting van het Architectuur Film Festival Rotterdam 2017:
GOGO PENGUIN
KOYAANISQATSI: A NEW SCORE PERFORMED LIVE
UITVERKOCHT Deze voorstelling is verlopen
Dit is een concert met uitsluitend zitplaatsen.
Bijna een jaar na het strak uitverkochte concert in LantarenVenster keert GoGo Penguin terug met een heel bijzonder project. Op 8 oktober verzorgt het Engelse trio hun eigen live soundtrack bij de beroemde documentaire Koyaanisqatsi en sluit daarmee AFFR 2017 af.
Koyaanisqatsi: Life out of Balance (1982) is een samenwerking tussen Godfrey Reggio en de componist Philip Glass. Het is een hypnotiserende documentaire over de relatie tussen mens, natuur en technologie. Koyaanisqatsi staat in de taal van de Hopi-indianen voor "leven in gekte, leven in onrust, leven in onbalans, leven in desintegratie, een manier van leven die vraagt om een andere manier van leven". Het laat de gevolgen zien van de snel toenemende technologische innovaties en het stadsleven voor de natuur. In de film wordt een reis gemaakt langs plekken die laten zien dat de verhoudingen tussen mens, techniek en natuur uit balans zijn geraakt.
Gogo Penguin toerde afgelopen jaar veelvuldig met het op Blue Note verschenen album Man Made Object (2016), waarop het trio uit Manchester volledig akoestisch geluiden benadert vanuit de triphop en dance. Hun genre-ontstijgende klanken beginnen een steeds breder publiek te betoveren. De band werd in The Wall Street Journal geprezen om zijn lef en energie. "We recreëren elektronische muziek op akoestische instrumenten," aldus pianist Chris Illingworth.
The 1982 collaboration between Godfrey Reggio and the composer Philip Glass is a classic. This hypnotic documentary explores the relation between mankind, nature and technology. In the Hopi language, Koyaanisqatsi means 'life of madness, life in turmoil, life out of balance'. The film captures the effect of increasing technological innovations and urban life on nature. The film visits places that show how the relationship between mankind, technology and nature has been unhinged.
"GoGo Penguin creates jazz in the same vein as Robert Glasper: It's a piano-driven blend with all the traditional aspects you'd expect from the genre while still scanning as something refreshingly vibrant and contemporary." - Pitchfork
"… three young men making music with jazz instruments, rock dynamics and circumscribed dance-music strategies. You'll soon hear about them." - New York Times
"Jazz, techno, hip-hop and dubstep are glimpsed here, but for all the looping motifs and dance floor vibes, this is the work of three sure-footed improvisers with deep jazz roots." - The Guardian
Deze voorstelling hoort bij:


Architecture Film Festival Rotterdam 2017
Evenals:
High Rise Event
Stroom debat & The Pier
Archiprix International
Toon alle 57 voorstellingen
bezetting:
Chris Illingworth - piano
Nick Blacka - contrabas
Rob Turner - drums