LANTARENVENSTER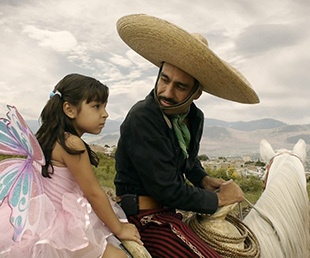 Special
EL CHARRO DE TOLUQUILLA
José Villalobos Romero
MX
2016
90'
Spaans gespr.
Engels ond.
VANDAAG | 17:00
alle vertoningen

>
KOOP KAARTEN
Vertoningen in aanwezigheid van de regisseur. El Charro kan helaas niet komen, hij is van zijn paard gevallen.
El Charro is een hiv-positieve cowboy en moderne Mariachi-zanger. Hij is sterk geïnspireerd door iconen als Pedro Infante en Javier Solis en probeert met zijn extreme lifestyle als macho charmeur en zanger zijn ziekte te verslaan. Tegelijkertijd wil hij een lieve vader zijn voor zijn jonge dochter. De film is net zo veelzijdig als El Charro zelf; een gewaagde maar geslaagde mix van humor en tragedie, van harde realiteit en variété drama, van absurde comedy en gevoelige kwetsbaarheid. Een vermakelijk en emotioneel portret ineen.
El Charro is a HIV-positive cowboy and a modern-style Mariachi singer. Inspired by iconic singers such as Pedro Infante and Javier Solis, he tries to overcome his illness with his extreme life style as macho charmer and singer. At the same time, he attempts to be a caring father for his young daughter. The film is as diverse as El Charro himself; a daring and successful mix of humour and tragedy, of harsh reality and drama, of absurd comedy and fragile vulnerability. An entertaining and moving portrait at once.
Deze voorstelling hoort bij:


Festival Latino Americano Rotterdam 2017
Evenals:
Dia de Tango
As I Walk Through the Valley
Suite Habana
Toon alle 7 voorstellingen