LANTARENVENSTER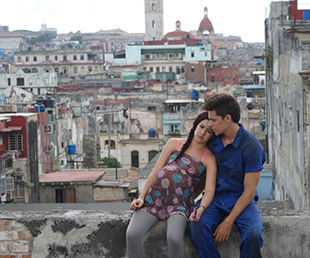 Special
EL TECHO
Patricia Ramos
CU, NI
2016
75'
Spaans gespr.
Engels ond.
vr 25 aug | 21:15
alle vertoningen

>
KOOP KAARTEN
Op originele wijze laat de regisseuse in haar eerste speelfilm goed zien wat er leeft onder de huidige generatie Cubaanse jongeren. El techo speelt zich geheel af op het dak van een oud huis, ergens in Centro Habana. Drie jongeren hangen dag in dag uit op dat dak; ze dromen, vervelen zich, hebben wensen en maken plannen. Zo ontstaat hun idee om een eigen pizzeria te beginnen. Een klein voorbeeld van wat er in hedendaags Cuba gaande is; voorzichtige privatiseringen binnen strakke grenzen.
This first film shows in a refreshing way what is going on in the minds of the current generation of Cuban youngsters. El Techo mostly takes place on the roof of an old house, somewhere in Centro Habana. At that roof, three young people hang around for days. They dream, they are bored, they have desires and make plans. By doing so, one day the idea to start their own pizzeria emerges. A small example of what's happening in today's Cuba; cautious privatisation within strict boundaries.
Voorfilm:
Sirenas
Maryulis Alfonso Yero | Cuba | 2015 | 20' | Spaans gespr. | Engels ond.
Zoe en haar zusje Clara wonen samen met hun moeder. Als er op een dag een mierenplaag in huis is, haalt moeder er een insectenverdelger bij. Zoe ziet de aantrekkingskracht tussen de twee volwassenen en probeert de man uit hun leven te jagen. Om haar zusje mee te krijgen maakt ze haar wijs dat hij hun moeder in een meermin wil veranderen. Een mooi gefilmde originele fantasie.
Zoe and her sister Clara live together with their mother. One day, a plague of ants hits the house, and the mother calls an exterminator. The attraction between the two adults is immediately noticed by Zoe and she tries to chase this man away. In order to get her sister to participate, Zoe tells her that he wants to turn their mum into a mermaid. A beautifully shot original fantasy.
Deze voorstelling hoort bij: