LANTARENVENSTER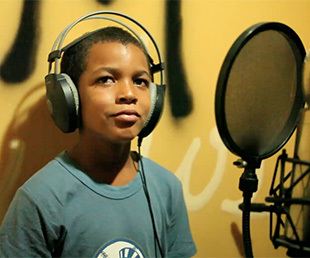 Special
JEFFREY
Yanillys Perez
DO, FR
2016
78'
Spaans gespr.
Engels ond.
vr 25 aug | 11:30
alle vertoningen

>
KOOP KAARTEN
De twaalfjarige Jeffrey leeft op straat en verdient de kost als autoruitenwasser bij stoplichten. Hij is één van negen kinderen van zijn alleenstaande moeder en droomt van een carrière als reggaeton zanger, net als zijn oudere broer. Daar moet hij hard voor oefenen. De aanhouder wint en hij mag meedoen aan een talentenjacht op televisie. Deze eerste lange documentaire van Perez voelt aan als fictie, wat het realistische beeld van het sociale leven in de sloppenwijken van Santo Domingo effectief versterkt.
The twelve-year-old Jeffrey lives on the street and makes a living cleaning car windows at the traffic lights. He is one of nine children of a single mom and dreams of a career as reggae ton singer, just like his older brother. He needs to practise a lot, but because of his perseverance he is allowed to join a talent show on television. This first feature length documentary by Perez feels like fiction, which strengthens the realistic imagery of social life in the slums of Santo Domingo.
Voorfilm:
Molina's Rebecca
Jorge Molina Enríquez | Cuba | 2016 | 19' | Spaans gespr. | Engels ond.
Maffe korte film over een ouder echtpaar met een uitgeblust saai leven. Totdat hun jonge, mooie nichtje komt logeren! Vooral de opwindende ontmoetingen met haar vriendje brengen nieuwe en frisse energie en geven het (seks)leven van het oudere stel een flinke impuls. Molina vervolgt met deze productie zijn reeks korte (grappige) MOLINA-films.
A peculiar short film about an elderly couple with a jaded dull life. Until one day their young and beautiful cousin comes to stay! Especially the exciting encounters with her boyfriend bring new fresh energy, and give a big boost to the couple's (sex) life. With this film, Molina adds another story to his series of short, funny MOLINA films.
Deze voorstelling hoort bij:


Festival Latino Americano Rotterdam 2017
Evenals:
Dick Verdult - Het is waar maar niet hier
Era o hotel Cambridge
Pequeñas mentiras piadosas
Toon alle 16 voorstellingen