LANTARENVENSTER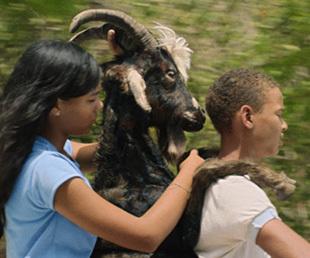 Special
BAD LUCKY GOAT
Samir Oliveros
CO
2017
76'
Creools gespr.
Engels ond.
za 26 aug | 11:15
alle vertoningen

>
KOOP KAARTEN
Luchtige roadmovie in het creoolse Port Paradise, waar broer en zus per ongeluk een geit aanrijden met de pick-up truck van hun pa. Hun uitdaging is nu de auto op tijd te repareren, want die is nodig om toeristen op te halen… Ze botvieren hun handelsvaardigheden op een slager, dealen met Rastafari drummers, bezoeken een pandjesshop, zelfs een tovenaar en dat alles binnen 24 uur. Dit droogkomische avontuur met reggae vibes is een heerlijke feelgood movie maar laat zijdelings ook de corruptie en traagheid van het eiland zien.
Playful road movie in the Creole Port Paradise, where a brother and sister accidentally hit a goat with the pick-up truck of their dad. The challenge is to repair the car in time, as it's needed to pick up tourists… They exercise their trading skills on the butcher, make a deal with Rastafari drummers, visit a pawn shop and even a wizard, and all that in less than 24 hours. This dry-humorous adventure with reggae vibes is a joyful feel-good film, and on the side also shows the corruption and slowness of the island.
Voorfilm:
Caparazón
Joanna Vidal | 2015 | Cuba | 13' | SP gesproken | EN ond.
Vermakelijke, maar tegelijk trieste korte film over de bejaarde Rosa, die haar eenzaamheid voor de buitenwereld weet te verhullen. Op haar verjaardag lukt het haar ieder jaar weer opnieuw om haar familieleden in Florida een feestelijke foto te sturen… Wie houdt wie nou voor de gek? Een universeel thema in tragikomische Cubaanse setting.
Entertaining and sad at the same time, this short film on the elderly Rosa who hides her loneliness for the outside world. Each year on her birthday, she manages to send her relatives in Florida a festive photo… Who is kidding whom? A universal theme set in a tragi-comical Cuban frame.
Deze voorstelling hoort bij: