LANTARENVENSTER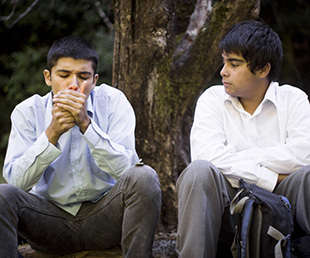 Special
MALA JUNTA
Claudia Huaiquimilla
CL
2016
89'
Spaans en Mapudungun gespr.
Engels ond.
za 26 aug | 19:45
alle vertoningen

>
KOOP KAARTEN
Tano, een opstandige tiener uit Santiago de Chile, wordt voor een strengere opvoeding naar zijn vader gestuurd in het zuiden van het land. Daar ontmoet hij Cheo, een stille bescheiden jongen die gepest wordt vanwege zijn Mapuche afkomst. De twee zijn tegenpolen maar vinden elkaar als de wereld om hen heen bedreigd wordt door geweld. De film toont niet alleen het Mapuche-conflict maar juist ook de zoektocht van jongeren in de samenleving.
Tano, a rebellious teenager from Santiago de Chile, is sent to his father in the south of the country for a more strict upbringing. Here he meets Cheo, a silent and modest boy who is bullied for his Mapuche origins. The two are opposites, but find a connection when the world around them is threatened by violence. The film doesn't only show the Mapuche conflict, but foremost shows the search from youngsters in society.
Deze voorstelling hoort bij: