LANTARENVENSTER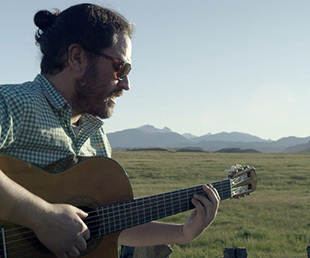 Special
EL VIAJE - A ROAD TRIP INTO CHILES MUSICAL HERITAGE
Nahuel Lopez
DE
2016
93'
Spaans en Duits gespr.
Engels ond.
vr 25 aug | 13:45
alle vertoningen

>
KOOP KAARTEN
In El Viaje reist muzikant Rodrigo Gonzalez, bassist van de Duitse punk-rockband Die Ärzte, naar zijn geboorteland Chili op zoek naar muzieksporen uit zijn jeugd. In 1974 is hij als zesjarige jongen met zijn ouders naar Duitsland gevlucht voor dictator Pinochet. Rodrigo wil weten of en in hoeverre de protestliederen van deze periode inspiratiebronnen zijn voor zijn generatiegenoten. Het resultaat is een levendige muziekdocumentaire met veel interessante muzikale ontmoetingen.
In El Viaje, musician Rodrigo Gonzalez, bass player in the German punk-rock band Die Ärtze, travels to his country of birth Chile looking for the music traces from his youth. As a six-year-old boy in 1974, he and his parents fled the country from dictator Pinochet to Germany. Rodrigo wants to find out whether the protest songs from this period still inspire contemporary musicians in Chile. The result of his search is a vibrant music documentary with many interesting musical encounters.
Deze voorstelling hoort bij: