LANTARENVENSTER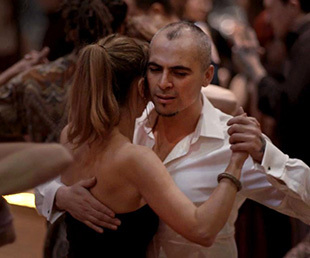 Special
TANGOMANIA
Susan van den Broek & Joachim Thissen
NL
2016
75'
Nederlands en Engels gespr.
Engels ond.
zo 27 aug | 15:00
KOOP KAARTEN
De documentaire Tangomania volgt twee personen: Yerpun, een ervaren tangodanser en leraar uit Chili die intimiteit vindt in deze Argentijnse dans en Judith, nieuw in de tangowereld, die haar weg probeert te vinden in de Amsterdamse hiërarchische tango-scene. Judith heeft moeite met de sociale codes die er heersen en weet niet of ze kan wennen aan het lange wachten, het wel of niet ten dans gevraagd worden, etcetera. Een interessant kijkje in de tango-keuken, waar veel tangodansers, én niet-dansers, zich zullen herkennen in universele vraagstukken uit deze genuanceerde tangofilm.
The documentary Tangomania follows two persons: Yerpun, an experienced tango dancer and teacher from Chile who finds intimacy in this Argentinean dance and Judith, who is new in this world of tango-dancing and who tries to find her way in the hierarchical Amsterdam tango scene. Judith struggles with the social codes that prevail and is unsure if she can ever get used to the long waiting, whether or not be asked to dance and so on. An interesting sneak peek in the world of tango, in which many tango dancers, and non dancers, will recognize themselves in universal problems of this nuanced tango film.
Deze voorstelling hoort bij: