LANTARENVENSTER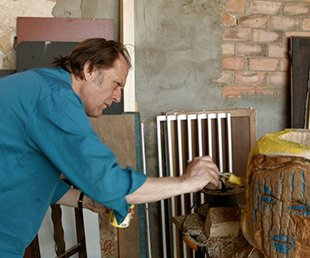 Special
DICK VERDULT - HET IS WAAR MAAR NIET HIER
Luuk Bouwman
NL
2017
70'
Nederlands, Engels en Spaans gespr.
Engels ond.
VANDAAG | 19:30
alle vertoningen

>
KOOP KAARTEN
Geroemd en beroemd in Latijns-Amerika, onbekend in eigen land. Dick Verdult, ofwel Dick el Demasiado, weet met zijn zestig jaar levenservaring, diverse woonplaatsen en vele kunstwerken verder, het leven én zijn eigen werk met gepaste relativering en humor te benaderen. Met zijn cumbia experimental is hij een grote hit in onder andere Colombia, Peru en Argentinië. In combinatie met de verfrissende kunstwerken en dito visie op het leven is dit portret van deze post-dadaïstische cult artiest een genot voor oog en oor.
Famous and renown in Latin America, unknown in his home country. Dick Verdult, a.k.a. Dick el Demasiado, having 60 years of life experience including numerous places of residences and countless works of art, approaches life and his work with relativity and humour. With his cumbia experimental he is a great success in for example Colombia, Peru and Argentina. In combination with his refreshing works of art and similar take on life, the documentary of this post Dadaist cult artist is a true pleasure for the eye and ear.
Deze voorstelling hoort bij: