LANTARENVENSTER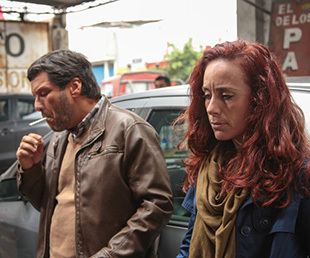 Special
LA ÚLTIMA TARDE
Joel Calero
PE, CO
2016
81'
Spaans gespr.
Engels ond.
za 26 aug | 11:45
alle vertoningen

>
KOOP KAARTEN
Peruaanse 'Linklater-film'. Twee ex-geliefden zoeken elkaar na negentien jaar op om de papieren van de scheiding te regelen. Zij, afkomstig uit de hogere sociale klasse, had hem, een militant uit het bergstadje Cuzco, destijds in verwarring verlaten. Pratend en wandelend door Miraflores, Lima, rakelen ze het verleden op en komen er na jaren achter wat er werkelijk gebeurd is. Frustratie, pijn, oude wonden en confrontaties worden afgewisseld met nieuwe inzichten en begrip. Een indrukwekkend portret van twee personen die aan elkaar verbonden waren en nog steeds zijn.
Peruvian 'Linklater-film'. Two former lovers meet again after nineteen years to arrange their divorce papers. She, coming from an upper social class, once left him – a militant of the small mountain village Cuzco – in confusion. Talking and walking through Miraflores, Lima, they bring up old memories and find out after all those years what actually happened. Frustration, pain, old wounds and confrontations are interchanged with new perspectives and understanding. An impressive portrait of two people who once were connected and still are.
Voorfilm:
Conectifai
Horizoe Garcia | 2016 | Cuba | 17' | SP gesproken | EN ond.
Sinds kort (2016) kent Cuba enkele wifi-spots verspreid over het land. Voor het eerst hebben Cubanen toegang tot internet en dat opent mogelijkheden: eindelijk komen ze in contact met familie overzee, ontdekken ze de sociale media en kunnen ze face-timen. Echter, het blijft Cuba waar de voorzieningen schaars zijn: zelfs in de cloud staan de Cubanen nog in de 'rij' en is het soms lang wachten om eindelijk online te komen.
Cuba has only recently (2016) permitted a few Wi-Fi spots spread across the country. For the very first time, Cubans now have access to the internet which opens up possibilities: finally, they can connect to family oversees, and they can discover social media and use FaceTime. However, at Cuba recourses are still scarce: even in the cloud, Cubans have to queue to get online.
Deze voorstelling hoort bij:


Festival Latino Americano Rotterdam 2017
Evenals:
La novia del desierto
Tamara y la catarina
Atrás hay relámpagos
Toon alle 27 voorstellingen