LANTARENVENSTER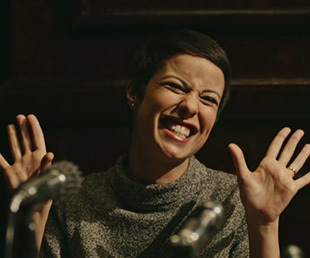 Special
ELIS
Hugo Prata
BR
2016
110'
Portugees gespr.
Engels ond.
Deze voorstelling is verlopen
Biopic over het bewogen leven van één van de grootste Braziliaanse zangeressen ever: Elis Regina. Andreia Horta zet overtuigend de rol van Elis neer, beginnend als jong meisje onder de hoede van haar vader. Al snel vecht ze zich los en gaat ze voluit voor haar carrière, die niet over rozen gaat. Tegen de achtergrond van de dictatuur zien we haar vechtlust, haar strijd en haar persoonlijke en artistieke zoektocht. Een aangrijpend levensverhaal omkleed met prachtige muziek van bossa nova tot Música Popular Brasileira (MPB).
Biopic on the tumultuous life of one of the greatest Brazilian singers ever: Elis Regina. Andreia Horta greatly convinces playing Elis; from the young girl protected by her father, to the independent woman fighting for her quite turbulent career. Against the backdrop of the dictatorship, we see her strength, battle and personal and artistic search. A touching life story, complemented with beautiful music; from Bossa Nova to Música Popular Brasileira (MPB).
Deze voorstelling hoort bij: