LANTARENVENSTER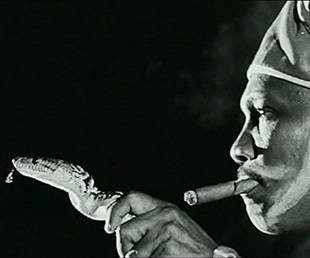 Special
NOSOTROS, LA MUSICA
Rogelio Paris
CU
1964
66'
Spaans gespr.
Engels ond.
vr 25 aug | 19:15
KOOP KAARTEN
Rogelio Paris' film toont een rijk en gevarieerd panorama van Cubaanse muziek en dans uit de jaren zestig, waarbij volop te genieten valt van legendarische Cubaanse muzikanten zoals Bola de Nieve, Celeste Mendoza, Elena Burke en andere muzikanten. We zien een breed scala aan Cubaanse muzieksoorten uit die tijd én de jaren ervoor. Waardevol archiefmateriaal toont het Cubaanse publiek dat smachtend wacht tot de muziek begint zodat zij kunnen dansen! Een must voor de liefhebbers van Cubaanse muziek en dans.
This film by Rogelio Paris shows a rich and varied panorama of Cuban music and dance from the 60s. There is a lot to enjoy from legendary Cuban musicians like Bola de Nieve, Celeste Mendoza, Elena Burke and other musicians. We see a wide range of Cuban musical styles, from this period and from the years before. Precious archive material shows the Cuban audience waiting in anticipation for the music to start so they can dance! A must for lovers of Cuban music and dance.
Voorfilm:
Casa en venta
Emanuel Giraldo Betancur | 2016 | Cuba, Colombia | 18' | SP gesproken | EN ond.
Cuba staat langzaam open voor privatisering en één van de gevolgen is dat Cubanen hun huis na vijftig jaar mogen verkopen. Maar als verkoper hebben ze geen enkele ervaring! Drie huiseigenaren tonen ons hun huis. Vol trots prijzen ze hun dierbare leefomgeving aan, waarbij het delen van hun persoonlijke herinneringen over de inboedel belangrijker is dan het commerciële resultaat. Aandoenlijk, lachwekkend en ontroerend tegelijk.
As Cuba is gradually giving way to privatization, Cubans are now, after 50 years, allowed to sell their house. But they lack the sales skills! Three house owners show us proudly their property. They recommend their precious home with great pride, while they are sharing their personal memories of the furniture instead of focussing on the commercial goal. Hilarious and touching at the same time.
Deze voorstelling hoort bij:


Festival Latino Americano Rotterdam 2017
Evenals:
Pequeñas mentiras piadosas
Buena Vista Social Club: Adios
Fresa y chocolate
Toon alle 19 voorstellingen