LANTARENVENSTER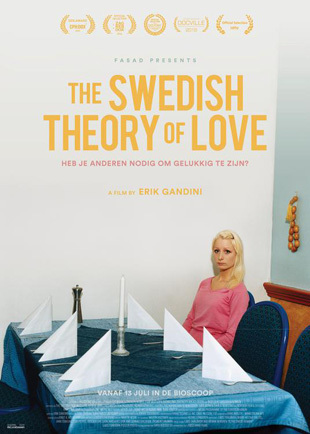 Film
THE SWEDISH THEORY OF LOVE
Erik Gandini
Zweden, Noorwegen, Denemarken
2017
76'
Zweeds gespr.
Nederlands ond.
LAATSTE WEEK Deze voorstelling is verlopen

Voor velen is Zweden de perfect georganiseerde samenleving. Nergens ter wereld zijn burgers zo vrij en onafhankelijk van elkaar. Perfect toch? Maar maakt dat hyperindividualisme en die doorgedreven zelfontplooiing ook gelukkiger? Hebben mensen geen behoefte aan een sociale gemeenschap, aan contact en saamhorigheid? Willen we die totale individuele onafhankelijkheid eigenlijk wel?
In 1972 publiceerde de Zweedse overheid het manifest The Family of the Future met een nieuw maatschappelijk ideaal: alleen wanneer mensen fundamenteel onafhankelijk zijn van elkaar, zijn authentieke relaties mogelijk. De Zweedse overheid zette alles in het werk om iedereen gelijke kansen en een onafhankelijk bestaan te bieden. Vrouwen kunnen via de spermabank kiezen voor alleenstaand moederschap, zieken en oudere kunnen een beroep doen op diverse instanties, een vrouw mag niet langer financieel afhankelijk zijn van haar man en kinderen niet van hun ouders. Alleen dan is echte, authentieke liefde mogelijk: wanneer we de ander niet meer nodig hebben.
Tot op de dag van vandaag is dit uitgangspunt voor de meeste mensen in de westerse maatschappij een ideaal. Vele decennia na de lancering van het manifest komen er echter steeds meer twijfels op. Want als mensen elkaar niet meer nodig hebben, is er ook geen sociaal contact meer nodig. De gevolgen daarvan blijven niet uit.
Regisseur Erik Gandini (Videocracy) weet als geen ander achter de façade van onze perfecte Westerse wereld te kijken. In zijn gebruikelijke uptempo stijl, met knappe beelden, een uitgekiende soundtrack en meeslepende voice-over maakt de regisseur van The Swedish Theory of Love een boeiende reflectie op onze maatschappij waarin het streven naar individuele onafhankelijkheid nog steeds het grootste goed is. Soms grappig, vaak intriest, stelt de film belangrijke vragen over de zoektocht naar geluk, menselijke relaties en de essentie van mens-zijn.