LANTARENVENSTER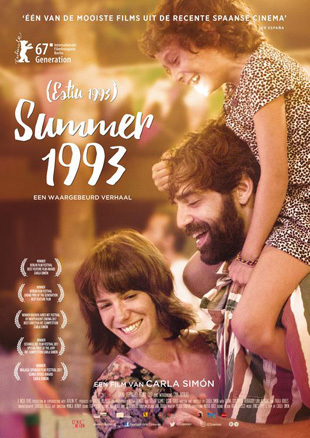 Film
SUMMER 1993
ESTIU 1993
Carla Simon Pipó
Spanje
2017
97'
Catalaans gespr.
Nederlands ond.
6E WEEK Deze voorstelling is verlopen

Een hartverwarmende biopic van de talentvolle en prijswinnende regisseur Carla Simon.
Na de dood van haar ouders, in de zomer van 1993, verhuist de zesjarige Frida van het bruisende Barcelona naar het Catalaanse platteland, om er bij haar oom en tante, haar nieuwe voogden, te gaan wonen. Het plattelandsleven is een uitdaging voor Frida – de tijd wordt anders ingedeeld in haar nieuwe thuis en de omringende natuur is mysterieus en bevreemdend.
Ze heeft nu ook een zusje waar ze zorg voor moet dragen en er steken nieuwe gevoelens, zoals jaloezie, de kop op. Heel vaak is Frida ervan overtuigd, naïef als ze is, dat weglopen de beste oplossing zou zijn voor haar problemen. Toch doet het nieuwe gezin er alles aan om de nieuwe breekbare balans een kans te geven en wat routine in hun leven te brengen. De occasionele familie-uitstapjes naar een lokaal fiësta of een zwembad, samen koken of luisteren naar jazzmuziek in de tuin zijn momenten van puur geluk.
★★★★ Volkskrant
"Erg knap, hoe Simón uit de verschillende gezichten van haar jonge actrice een getraumatiseerd, bijzonder menselijk personage kneedt, dat je vrijwel direct in je hart sluit."
★★★★ NRC Handelsblad
"Summer 1993 maakt invoelbaar hoe complex, maar vooral hoe cruciaal het is om kinderen 'met bagage' een stabiel huis te bieden."
★★★★ Elsevier
"Ontroerende, klein opgezette parel"