LANTARENVENSTER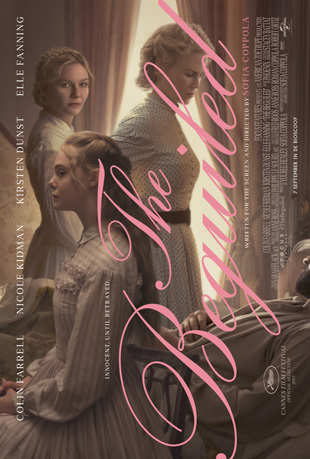 Film
THE BEGUILED
Sofia Coppola
Verenigde Staten
2017
93'
Engels gespr.
Nederlands ond.
LAATSTE WEEK Deze voorstelling is verlopen
Regisseur Sofia Coppola (Lost in Translation, Marie Antoinette) maakte een remake van de gelijknamige film uit 1971.
In het origineel vielen alle vrouwen als een blok voor Clint Eastwood. In de nieuwe versie wordt het verhaal vanuit de vrouw bekeken en zien we Nicole Kidman, Kirsten Dunst en Elle Fanning als mannenverslinders.
Het verhaal speelt zich af tijdens de Amerikaanse Burgeroorlog in 1864 in een meisjesinternaat in het zuiden. De vrouwen, die in het huis wonen, leven afgeschermd van de buitenwereld - tot de dag waarop een gewonde soldaat (Colin Farrell) wordt aangetroffen, die vervolgens wordt binnengelaten om verpleegd te worden.
Er ontstaat een seksueel geladen sfeer en door onderlinge dreigende rivaliteit tussen de vrouwen neemt het verhaal een onverwachte wending.
The Beguiled werd geselecteerd voor de competitie van het filmfestival van Cannes waar Sofia Coppola de prijs voor Beste Regie in de wacht sleepte.
★★★★ NRC
"Het is een echte Sofia Coppla-film, ze keert terug naar de dromerige stijl van haar debuut The Virgin Suicides. The Beguiled is prachtig gefotografeerd, met omfloerste, schilderachtige beelden die zowel naar Vermeer verwijzen als foto's uit de tijd van de Amerikaanse Burgeroorlog."
★★★★ VPRO Cinema
"Sterk spel van de actrices en mooi broeierig gefilmd op locatie in Louisiana. Coppola kreeg op het festival van Cannes, waar de film in première ging, de prijs voor beste regisseur."
★★★★ De Volkskrant
"Coppola houdt van vrouwen die een beetje buiten de werkelijkheid lijken te zweven. In The Beguiled is haar acteurskeuze opnieuw feilloos. […] Elk shot is beeldschoon: ze speelt met kaarslicht, de bomen zijn groen bemost."