LANTARENVENSTER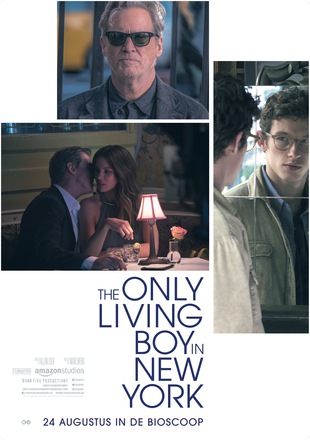 Film
THE ONLY LIVING BOY IN NEW YORK
Marc Webb
Verenigde Staten
2017
89'
Engels gespr.
Nederlands ond.
7E WEEK Deze voorstelling is verlopen
De net afgestuurde talentvolle Thomas (Callum Turner) leidt een comfortabel leven in New York. Alles verandert echter wanneer hij ontdekt dat zijn vader (Pierce Brosnan) een affaire heeft met de bloedmooie Johanna (Kate Beckinsale).
Thomas wil zijn moeder beschermen, maar raakt steeds meer geobsedeerd door zijn vaders affaire en diens minnares in het bijzonder. Gelukkig wordt Thomas bijgestaan door zijn excentrieke buurman (Jeff Bridges), die geregeld met hem door New York struint en hem van vaderlijke adviezen voorziet.
The Only Living Boy in New York is een innemende coming-of-age-film die doet denken aan het werk van Woody Allen en Noah Baumbach. De film heeft veel gemeen met The Graduate, de film die dit jaar zijn vijftigjarig jubileum viert. Net als bij The Graduate voert de muziek van Simon & Garfunkel de boventoon, The Only Living Boy in New York ontleent zijn titel aan een S&G-lied.
De regie is in handen van Marc Webb, die eerder 500 Days of Summer en The Amazing Spiderman maakte.
★★★★ NRC Handelsblad
"een zorgvuldig geconstrueerd verhaal vol culturele verwijzingen, sprankelende dialogen, aardige aforismen en psychologisch inzicht."