LANTARENVENSTER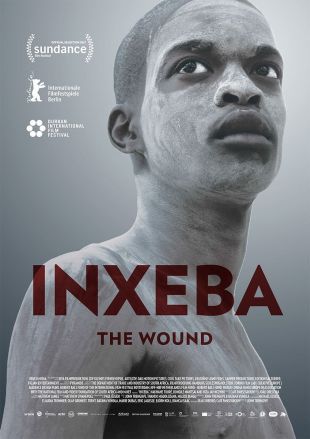 Special
THE WOUND
INXEBA
John Trengove
Zuid-Afrika
2017
88'
Xhosa, Afrikaans, Engels gespr.
Engels ond.
di 29 aug | 21:15
KOOP KAARTEN
Het Zuid-Afrikaanse drama The Wound behandelt twee taboes: besnijdenis en homoseksualiteit. Geen makkelijk onderwerp om een film over te maken, dus het Zuid-Afrikaanse filmfonds wilde niet mee financieren. Met behulp van diverse Europese partners, waaronder het Nederlands Filmfonds en Rotterdamse Hubert Bals Fonds, is het uiteindelijk toch gelukt de film te maken.
De Nederlandse cameraman Paul Özgür die een Gouden Kalf-nominatie kreeg voor Prins, draaide de film.
The Wound vertelt het verhaal van Xolani, een jonge fabrieksarbeider, die naar een afgelegen kamp vertrekt om jongens te begeleiden in de Ukwaluka, een traditioneel volwassenheidsritueel dat bestaat uit een besnijdenis. Dit jaar moet Xolani zorgen voor de verwende Kwanda, wiens rijke vader eist dat ook hij aan het ritueel deelneemt. Kwanda wordt door de andere jongens uitgestoten, maar Xolani vangt hem goed op. Maar dan komt Vitcha op de proppen, die met Xolani een speciale band heeft. Hij speelt een gevaarlijke spelletje met Kwanda, die al gauw de homoseksuele relatie tussen Xolani en Vitcha bemerkt.
Regisseur John Trengove geeft een unieke inkijk in de Xhosacultuur. In tijden van homofoob geweld in Afrika, waar homoseksuelen de doodstraf riskeren in sommige landen, werd het tijd om een film te maken die een verband legt tussen homoseksualiteit en traditionele cultuur, vond de regisseur.
De openlijk homoseksuele zanger Nakhane Touré speelt de rol van Xolani.
The film is beautifully shot by Paul Özgür, particularly scenes shot in the warm glow of the firelight or lush green of the mountainside. This remains an accomplished debut." - ★★★★ EYE FOR FILM
Deze voorstelling hoort bij: