LANTARENVENSTER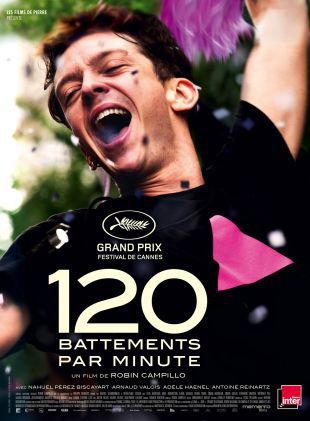 Film
120 BPM
120 BATTEMENTS PAR MINUTE
Robin Campillo
Frankrijk
2017
140'
Frans gespr.
Nederlands ond.
LAATSTE WEEK vr 01 dec | 18:45
KOOP KAARTEN
Speciale vertoning in het kader van Wereld Aids Dag i.s.m. HIV-Borrel Rotterdam en omgeving en COC Rotterdam e.o.
Een liefdesverhaal tegen de achtergrond van de Parijse ACT UP-beweging.
Parijs, begin jaren negentig. Terwijl aids al bijna tien jaar een ontelbaar aantal levens kost, beginnen een aantal activisten de ACT UP-beweging, om te strijden voor erkenning en de rechten van hivpatiënten. Tijdens een wekelijkse vergadering voelt nieuwkomer Nathan zich ogenblikkelijk aangetrokken tot de uitgesproken Sean. Hun opbloeiende relatie is de rode draad in deze film over liefde, leven en vriendschap.
Deze nieuwe film van Robin Campillo (Eastern Boys) won de Grand Prix op het filmfestival van Cannes 2017. Als het aan jurylid Pedro Almodóvar had gelegen had 120 BPM de hoofdprijs, de Gouden Palm, gewonnen en de film werd gedoopt tot Palm de Coeur (Palm van het hart).
★★★★★ The Guardian
"The film has what its title implies: a heartbeat. It is full of cinematic life."
★★★★ NRC Handelsblad
"Robin Campillo maakt zijn eigen verleden als aidsactivist sluipenderwijs invoelbaar.'Je leert ze kennen, begrijpen en tenslotte liefhebben."
★★★★ het Parool
"een charismatische cast."
"Het slotbeeld is onvergetelijk"
★★★★ AD
"Ontroert"
★★★★ de Volkskrant
"Fijnzinnig geschetst tijdsbeeld"
"Een gloedvol document"
★★★★ Trouw
"Een intense en ontroerende film... Klein monument voor de strijd tegen aids in Parijs."
★★★★ VPRO Gids
"Aangrijpende drama over angst, liefde en verzet"